Rumours abound that Yumblog Holdings has breached its banking covenants (whatever that means) and that perhaps the Yumblog franchise is not the cash cow it once used to be. We would like to rigorously refute these allegations and point out that all of our ventures (including Yumblog at Claridges, Yum in Grosvenor Square, Ad Nauseyum on Royal Hospital Road, J.D. Yummyspoons on Narrow Street and 'The Y-Word' on Channel 4) are all crapping out loads of fucking money!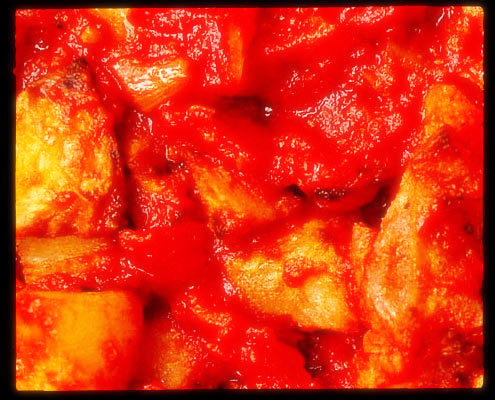 Preparation time: 10 minutes
Cooking time: 45 minutes
Skill level: easy
Serves: 4 as a side dish
Ingredients
8 medium potatoes
1 onion – chopped
tin of chopped tomatoes – 450g
2 red chillies – finely chopped
3 cloves of garlic – crushed
1 bay leaf
tomato purée – 1 tbsp
sugar – 1/2 tbsp
soy sauce – 1 tbsp
white wine – glass
s & p
Cut the potatoes into 3/4 inch chunks, put into an oiled baking tray, drizzle with oil, mix about a bit and place in a hot oven (200c).
Season well and roast until soft and golden (30 – 45 minutes)
Meanwhile make the sauce by sweating the onion in olive oil with the bay leaf until soft. Add the chillies, garlic, tomato purée, sugar and soy sauce and sweat for a further 5 minutes on a low heat.
Add the chopped tinned tomatoes and white wine, bring to the boil and simmer for 10 minutes.
Season to taste – this sauce should be slightly sweet.
Pour the sauce over the cooked potatoes and serve.
Verdict: We've all eaten it and we all love it.

Drink: Rounded off the evening with an ill-advised Vodka and orange.

Entertainment: Will those sisters ever stop yapping?