Team yumblog have recently returned from a fashionable late summer staycation in Lyme Regis – a town famed for its fossil strewn Jurassic coastline, historic Cobb and a love-lorn Meryl Streep. Less well known is its enthusiasm for the unimpressive pastime of stone balancing, a strange obsession with anything 'gluten free', and the universal practice of removing the seeds from cucumbers.
Booze and food wise, Lyme has several fine pubs, a micro brewery, a good independent offy, a superb baker, a crappy over-priced greengrocers, a well-stocked fishmonger and an excellent cheesemonger. Despite proclaiming their cheesy credentials, you couldn't buy any of our test samples at this or any other cheesemonger, for that you'd need to find yourself a 'Stretchablecheesefoodsnackstickmonger'.
For those of you unfamiliar with the appearance of this particular sub-section of kiddies value-added fun 'food', imagine if you can a greasy ball of fluorescent silicon sealant which has been rolled into a sausage by a bored plumber with particularly sweaty and slightly cheesy hands. Remarkably this is an analogy which works equally well when trying to describe the flavour.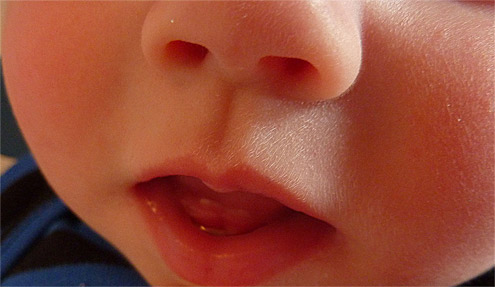 Two teeth
Although still exclusively and enthusiastically dining on milk, a teething Yumblog Junior has just about reached the point where we can begin to introduce her to the magical world of solid food. It therefore goes without saying that as card carrying poncy middle-class, Guardian reading*, self-righteous novice parents, we are particularly interested in gimmicky food products cynically aimed at young children … especially when they lay claim to be '100% natural' and packed with a glassful of milky goodness.
* But not Liberal Democrat voting.
Peelable Cheese Twirler
Description: 100% Natural Cheese. Each string contains a glass of milk.
Ingredients: Pasteurised milk, salt, citric acid, beta carotene.
Calories: 74 per stick
Further reading: http://www.peelablecheese.co.uk/
First from the panneau de fromage is this Peelable Cheese Twirler with its unique and innovative two-tone spiral of 100% natural plastic cheese goodness. We were naively expecting there to be a difference in flavour between the two spirals, with perhaps the yellow being an oak matured farmhouse cheddar and the white something milder like a Caerphilly or Cornish Yarg. Alas not so – both components shared a distinctive flavour more akin to a by-product from the petro-chemical industry than anything which might have originated in a dairy.
It takes a special kind of jaundiced corporate contempt to make the four simple ingredients of milk, salt, citric acid and beta carotene taste so fucking awful.
Conclusion: Remarkably not the worst we tested.
Dairylea Strip Cheese
Description: Cheese food snack with added calcium and vitamin D.
Ingredients: Mild Cheddar cheese (76%), concentrated whey, butter, milk proteins, emulsifying salt, flavouring, calcium phosphate, lactic acid, sorbic acid, vitamin D.
Calories: 73 per stick
Further reading: http://www.krafthealthyliving.co.uk
A past Yuckblog tasting of Dairylea's synthetic and loathsome Lunchables led us to be rightly suspicious of their foray into the 'stretchable cheese food snack stick' market. Fortunately (and unlike the Lunchables), these particular stretchable cheese food snack sticks seemed to be made of the same tasty stuff as Dairylea Triangles and were therefore perfectly edible and by far the most palatable of our test specimens. Though the awful pun name is lamentable.
Conclusion: If you like the Triangles you'll like these.
Cheestrings
Description: Cheestrings are simply natural cheese, just gently heated & stretched like mozzarella. That's what makes them great fun to eat.
Ingredients: 100% natural cheese.
Calories: 69 per stick
Further reading: www.cheestrings.co.uk
And so to the original and by far NOT the best. Even before opening the packet we were irked by the vague and simplistic use of '100% natural cheese' as the sole ingredient and a somewhat elevated comparison to Mozzarella. Mozzarella? Possibly the greasy snot which oozes from a Pizza Hut "Stuffed Crust" pizza, but not in a billion years the lush milky ambrosia we so zealously ate in Sperlonga. Upon tasting it became apparent that a more accurate comparison would have been with a wax crayon. But who cares, Cheestrings may be as appetizing as the coagulated chip fat which clogs up our cities' sewers, but at least they are 'great fun' for kids to eat.
Conclusion: Food shouldn't be 'fun' it should be tasty… give your precious little darling a lump of real cheese… and possibly a small glass of Beaujolais.
A brief snapshot of Lyme Regis: