Obviously what with the world as we know it ending in 2012 and all that, it could be argued that time is too precious to be squandered on baking bread. However, life and food are about quality not quantity, and besides as the title says, this is a 'quick' light wholemeal loaf.
In case you need convincing, eighty per cent of the bread sold in the UK is made by the charmingly named 'Chorley Bread Process'. This may sound like it is lovingly hand-crafted in Camberwick Green by Mickey Murphy the Baker using flour milled by Windy himself, but it is in reality a highly industrialised process which produces a bland, uniform 'product' bearing little resemblance to real bread.
When you add to this the fact that your supermarket loaf can contain such culinary delights as mould inhibitors, sodium stearoyl 2 lactylate, ethoxylated and succinylated monoglycerides, or polysorbate 60, then it has to be worth making a little effort and baking it yourself.
Domestic bread makers are always an option but I have found they tend to produce an anaemic and rather stodgy loaf only suitable for toasting.
Preparation time: 15 minutes + 1 hour waiting
Cooking time: 30/35 minutes
Skill level: Easy

Ingredients
organic strong white flour – 250g
organic wholemeal flour – 250g
fast action dried yeast – 2½ tsp
sunflower oil – 2 tbsp
demerara sugar* – 1 tbsp
warm water – 300ml
sea salt – 1 tsp
Firstly in a measuring jug dissolve the sugar into 100 ml of boiling water and then add 200 ml of cold water – this will give you 300 ml of solution at the correct temperature. Add the yeast and set aside for 5 minutes by which time it should have a frothy head about an inch high.
Using your hands, mix together the flours, salt and oil and gradually add the yeast mixture until a dough had formed. TIP: if you oil your hands beforehand it will help prevent the dough sticking to them.
Place on a floured surface, roll up your sleeves and enthusiastically knead for 10 minutes until you have a firm elastic dough.
Place this dough into a well oiled 1½lb bread tin, punch it down so it sits level at the bottom, lightly cover with oiled cling film, and set aside in a warmish place. Go away and amuse yourself for an hour or so until the dough has risen enough to dome over the top of the bread tin. Remove the cling film (obviously) and place towards the top of an oven pre-heated to 200 ºC (Gas Mark 6).
Bake for 30/35 minutes.
Turn out onto a cooling rack (you'll probably have to run a sharp knife down the sides and give it a good thump to do this)
As with all bread baking, tap the bottom of the loaf to check it is fully cooked – it should make a hollow sound.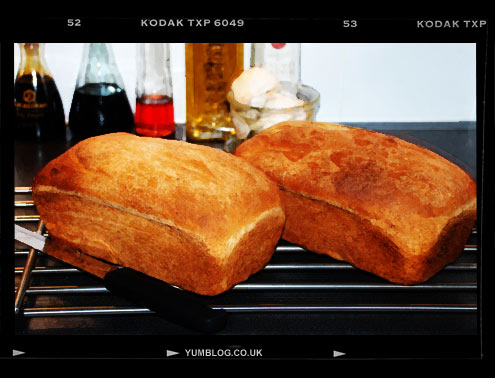 And that's all there is to it. Being domestic goddesses we generally double the quantities and make 2 loaves, putting one in the freezer for later in the week.
*Use ½ tbsp of sugar with ½ tbsp of either honey or malt extract to give the bread a slight (unsurprisingly) honeyed or malty flavour.
Verdict: As always, a good tasty wholesome loaf.

Drink: Strong coffee

Entertainment: Bread is usually baked on Sunday morning whilst listening to the radio. It is always a dilemma whether to listen to Russell Howard on 6Music, or for added middle-class ponciness, The Archers on Radio 4. Adolescent humour or the continuing saga of Ruth's breast reconstruction surgery … a tricky one.