Being the middle-class ponces we are, it is only natural that we should take delivery of an Abel & Cole organic vegetable box once a week. Carrots have featured fairly heavily of late and as a result we have developed quite a backlog of the things.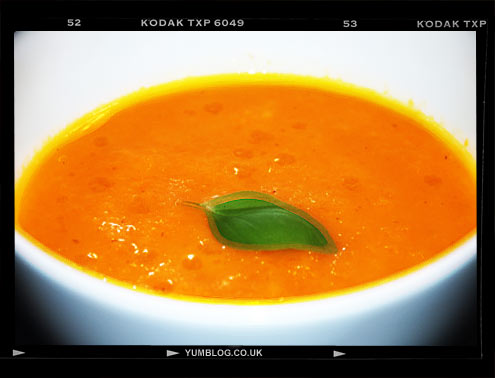 This soup is based on a recipe from an excellent book called 'Soup Kitchen' published by Collins for £14.99. Unfortunately the end result was a tad bland so we had to do a few last minute adjustments to make it worthy of a yumblog. The end result turned out to be pretty tasty.
Preparation time: 15 minutes
Cooking time: 1 hour
Skill level: Easy
Serves: 4/6
Ingredients
carrot – 600g – grated
1 medium onion – chopped
ginger – 20g – finely grated
juice of 1 lemon
clear honey – 1 tbsp
vegetable stock – made up with 450ml of water
greek yoghurt
olive oil
salt and pepper
Lightly fry the onion in the olive oil, add the ginger and sweat over a very low heat for 10 minutes. Add the carrots, lemon juice, honey, stock and water. Stir, season and bring to the boil. Turn down the heat, cover and simmer gently for 45 minutes.
When cooked, liquidise until smooth and adjust the seasoning.
Serve and stir in a generous spoonful of yoghurt.
Verdict: As mentioned before, the original recipe lacked flavour, however the addition of the stock and yoghurt really lifted this dish (bowl).

Drink: Well, we weren't going to drink tonight, however there was a Leffe in the fridge and half a bottle of red left over from the weekend…

Entertainment: 'Survivors', episode 7, series 2. Written by the mighty Ian McCulloch (not the bunnyman) himself and a big improvement on the other episodes in this occasionally preposterous and regularly annoying second series. Greg of course gets to kill again … like the man said "it gets easier"