And so ends our travels. After the longest journey of this adventure so far we arrive at a snow covered twilit Sweden. As the Disunited Kingdom slowly bleeds out from the self-inflicted wound of Brexit we spend our last night dining beneath the aurora borealis pondering our future and planning possible escape routes from a country that is feeling ever less like home.

It has been an enjoyable four weeks travelling around the EU member states. We have eaten heartily and tried many new (often potato-based) dishes. Our last meal is a sturdy savoury 'pudding' of salmon, potato and spinach baked in a dill-heavy cream sauce.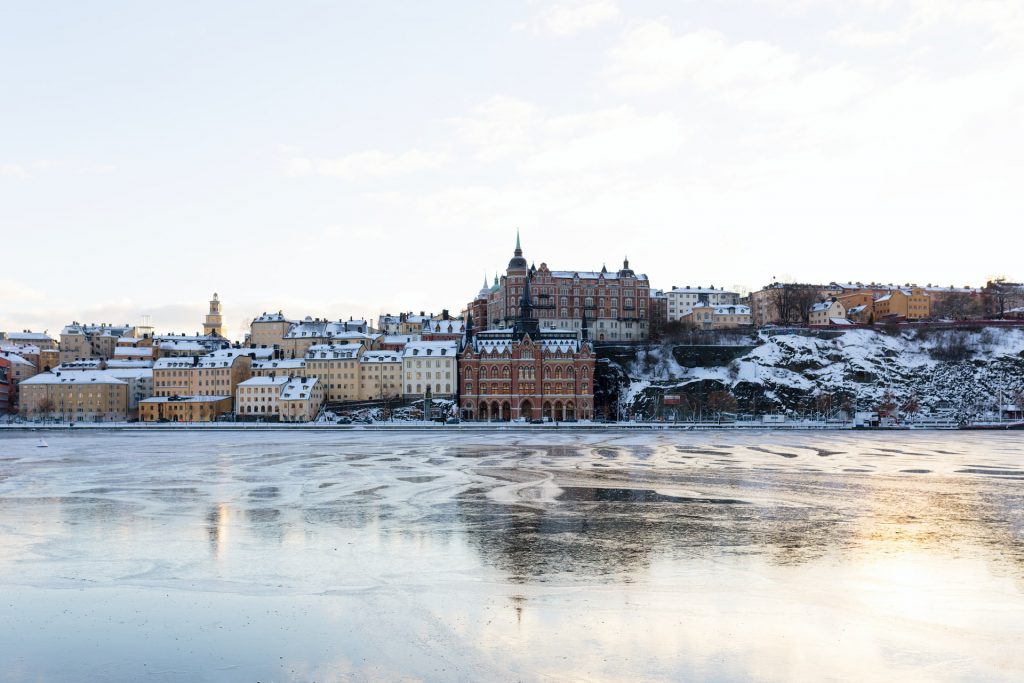 Laxpudding – Salmon, potato & spinach bake.
Preparation time: 15 minutes
Cooking time: 1 hour 20 minutes
Skill level: easy
Serves: 2 hungry people with a little to spare

Ingredients
potatoes – peeled and halved – 500g
butter – as much as you dare
1 large onion – peeled, halved and thinly sliced
1 bunch of spinach – washed – roughly chopped
salmon fillet(s) – skinned, pinboned and cut into 2cm chunks
bunch of dill – finely chopped, plus extra to serve
2 eggs
milk – 225 ml
single cream – 110g
s & p
First boil your potatoes in the usual way and set aside to cool.

Heat a knob of butter in a large frying pan, add the onions, a pinch of salt and sauté until the onion is soft and translucent.

Spoon out the onions and set aside.

Heat some more butter in the same frying pan, add the spinach and sauté until wilted. Season and set aside.

Heat your oven to 200°C.

Butter a suitable sized baking dish

Cut the cooled boiled potatoes into 5mm slices.

Layer a third of the potato on the bottom of the dish. Then half the onion, half the spinach, half the salmon and half the dill. Season.

Repeat this process.

Top with the final third of the potatoes.

Mix together the milk, cream and eggs. Season.

Pour this mixture over the assembled dish (we had a little left over).

Place in the oven and bake for 30 minutes.

Serve with lemon wedges and a sprinkle of dill you forgot to save.


Verdict: A rich creamy buttery meaty dilly dish. A fine alternative to the more involved British fish pie.

Drink: Camden Hells.

Entertainment: Avidly watching the Danish true crime drama 'The Investigation'. Much excitement when the Swedish Cadaver dogs arrive – from the bow of a dingy, they can detect the smell of fatty acids oozing from a corpse weighted down on the sea bed. It's true.