Happy New Year to all our readers… here's to a splendiferous 2016!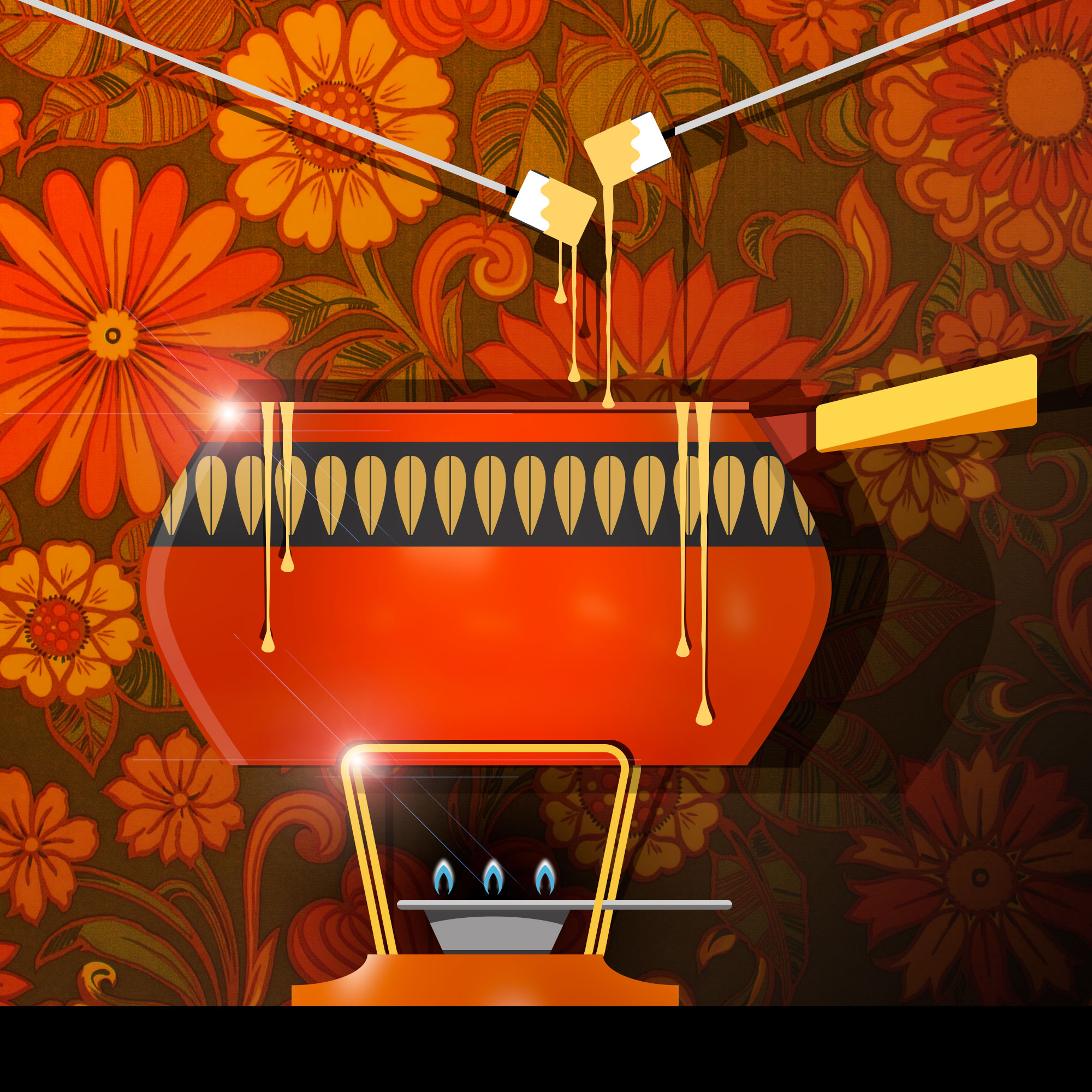 Preparation time: 10 minutes
Cooking time: 15 minutes
Serves: 4
Skill level: easy
Ingredients
emmental – 225g – grated
gruyère – 225g – grated
1 garlic clove – halved
cornflour – 1 tsp
white wine – something crisp and light – 290 ml
lemon juice – 1 tsp
kirsch – 1 or 2 tbsp depending on taste
nutmeg – a generous grating
white pepper
Firstly, try not to be alarmed at the amount of cheese you are about to eat.
Next, rub the inside of your fondue pot with the two halves of garlic.
Pour the wine and lemon juice into the pot and bring to the boil.
Lower the heat and gradually stir in the cheeses until they have melted, stirring all the time.
Mix the Kirsch with the cornflour and add to the cheese mixture.
Grate in the nutmeg and cook gently until the mixture is smooth and the consistency of cheese fondue, taking care not to let it boil as it will burn.
Taste and season with white pepper.
Serve immediately with small cubes of decent bread…we also had florets of cauliflower, asparagus and cherry tomatoes (and a starter of prawn cocktail).
Verdict: A classic fondue. Rich and warming and strangely decadent. Don't relegate the fondue to the ironic 70s dinner party, invest in a bottle of Kirsch and make it a regular on your weekend menu.

If you'd like a delicious variation, try this Porcini fondue, or if you are feeling theatrical, this Fondue in a pumpkin by the mighty Gregg Wallace.

Drink: Sparkling NYE drinks before, the rest of the white and a supplemental red during and after.

Entertainment: The year ends with Agatha Christie.