Ooh, the nights are drawing in. A pudding was required for esteemed guests and having banished thoughts of complex custards I alighted on the idea of feeding our friends something sweet and sticky instead, plums and apples away with you and your dull autumnal associations.
Preparation time: 15 minutes

Cooking time: 10-15 minutes

Serves: 2

Skill level: Easy
Ingredients
For the pastry:
butter – 175g
icing sugar – 65g
egg yolks – 2
plain flour – 225g
For the filling:
butter – 60g
golden syrup – 400g
cream – 30ml
1 egg
lemon juice – 1tbsp
salt – 1/2tsp
fresh breadcrumbs (preferably home-made so some larger 3mm bits remain) – 140g

First the pastry:
Put the butter, sugar and egg yolks in a bowl and mix together quickly. Add in the flour and work through until you have a sticky pastry. Wrap in clingfilm and refrigerate for at least an hour.
Heat the oven to 180C/Gas 4. Roll out the pastry to fit a 20.5cm/8-inch tart tin – you will have some left over, this can be used for decoration/intricate lattice-work if you are so inclined. Blind bake for about 25 minutes or until a golden colour. Leave until cool.
For the filling:
Melt the butter in a pan, add in the gold syrup and once that has melted mix in the cream. Remove from the heat and allow to cool. Add in the lemon juice and salt then stir in the egg making sure it is thoroughly beaten in.
Place your tart tin on a baking sheet. Spread the breadcrumbs into the tart case and pour over the syrup mixture. Allow to sit covered for an hour, this means that the syrup permeates both the crumbs and the pastry below.
Heat the oven to 140C and bake for 20 minutes.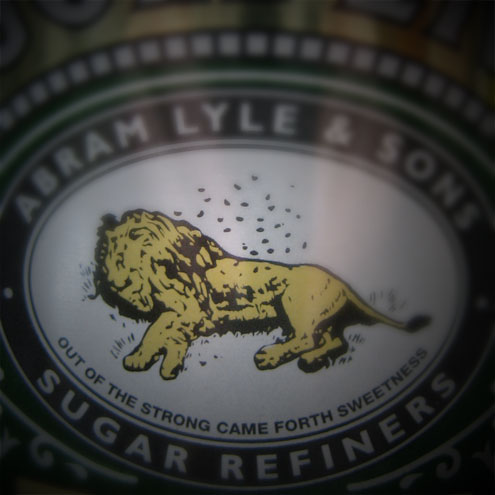 Out of the strong came forth sweetness … and out of the sweetness came forth a very toothsome tart.
Verdict: A sweet and chewy and crunchy tart, even Mr Yumblog liked it despite not being sweet of tooth. Plaudits abounded and when it came to putting it away for the night, the delights of the almost fudge-like sticky buttery crumbs at the bottom of the tin were a large spoonful of joy.

Drink: A few glasses of red and a small grenadine for Junior.

Entertainment: Guy Garvey's Finest Hour.