Sometimes I wonder why we bother. We try our best to make this blog an edifying and sophisticated experience, but a glance at our site stats shows that the top three search queries which brought you here today were 'Soft porn', 'Chicken pox' and 'Dairylea Lunchables'. You're a weird and mucky bunch.
Incidentally, anyone browsing for the 12th most popular search query, 'lawson nigella sex tape', the link is here.
Now go away and never darken these hallowed portals again.
Preparation time: 15 minutes
Cooking time: 1.5 to 2 hours
Serves: 2
Skill level: easy
Ingredients
(decent) tomatoes – 1kg
extra virgin olive oil
red wine vinegar
caster sugar – 1 tbsp
2 x 125g balls of the best mozzarella you can find/afford
basil leaves – small handful
Maldon salt and pepper
Preheat the oven to 140c/gas mark 1.
Roughly cut the tomatoes into bitesize pieces and lay in a single layer on a baking tray.
Pour over a generous slug of olive oil and a few splashes of the vinegar (you'll be enthusiastically mopping this up with bread later, so be generous). Sprinkle over the sugar, half the basil leaves and season with salt and pepper.
Roast in the oven for 1.5 to 2 hours or until the tomatoes are only just holding their tomato shape. Taste and adjust the seasoning if necessary.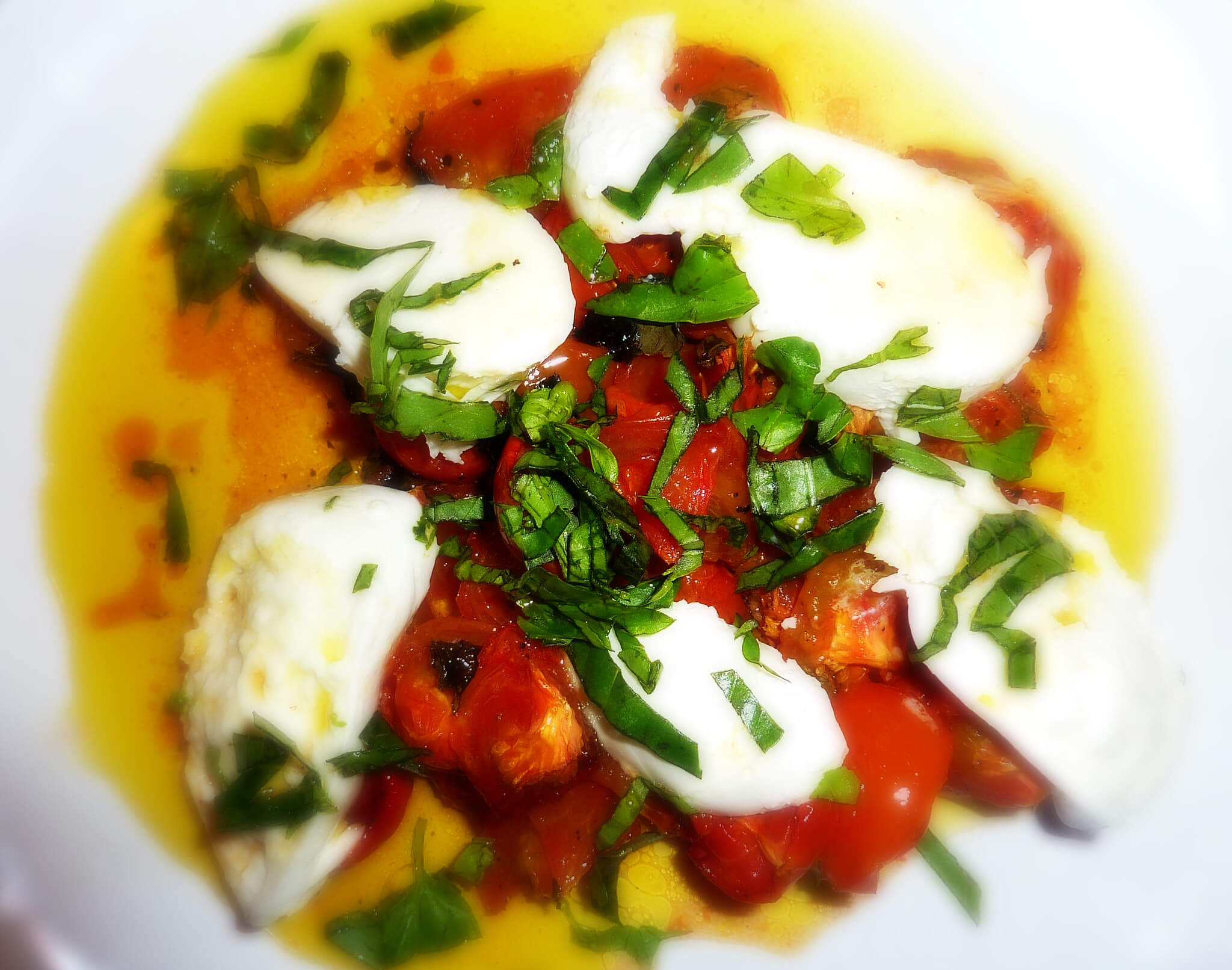 Spoon the tomatoes onto 2 plates and sprinkle over the remaining basil leaves (this time chopped). Lay over thick slices of mozzarella and drizzle with the remaining tomato-ey oil from the baking tray.
Eat warm with some good bread to soak up the juices.
Verdict: Superb. Sweet and tangy tomatoes, smooth creamy mozzarella and fragrant basil. Could only be improved by Mediterranean sunshine and a sea view.

Drink: A crisp cold Albariño perhaps?

Entertainment: Something from our secret stash of Celebrity Chef sex tapes…'Delia does Dallas'.*
* A copy of 'Delia does Dallas' to the reader to come up with the best chef/porn film title.