…or goat's cheese pancakes.
Preparation time: 10 minutes plus 30 minutes for the batter to sit
Cooking time: 20-30 minutes
Skill level: medium
Makes: 10 – 12 crêpes
Ingredients
For the crêpes
white flour – 190g
pinch of salt
2 eggs
full fat milk – 250ml
butter – melted – 25g
olive oil – for cooking
For the filling
2 shallots – finely chopped
1 clove of garlic – finely chopped
butter – 15g
soft goat's cheese – 100g
olive oil – 1tbsp
chives – finely chopped – 1tbsp
parsley – finely chopped – 1tbsp
s & p
If your goat's cheese is in the fridge, take it out so it softens to room temperature.
Start by making the batter.
Sift the flour into a bowl and then add the salt.
Make a well in the centre of the flour and break the eggs into it. Whisk the centre gradually bringing in more and more flour from the outside.
Next gradually whisk in the milk followed by the melted butter.
The batter should be runny enough to thinly coat the back of a spoon. Add a little more milk if too thick.
Cover and set aside in the fridge for at least 30 minutes.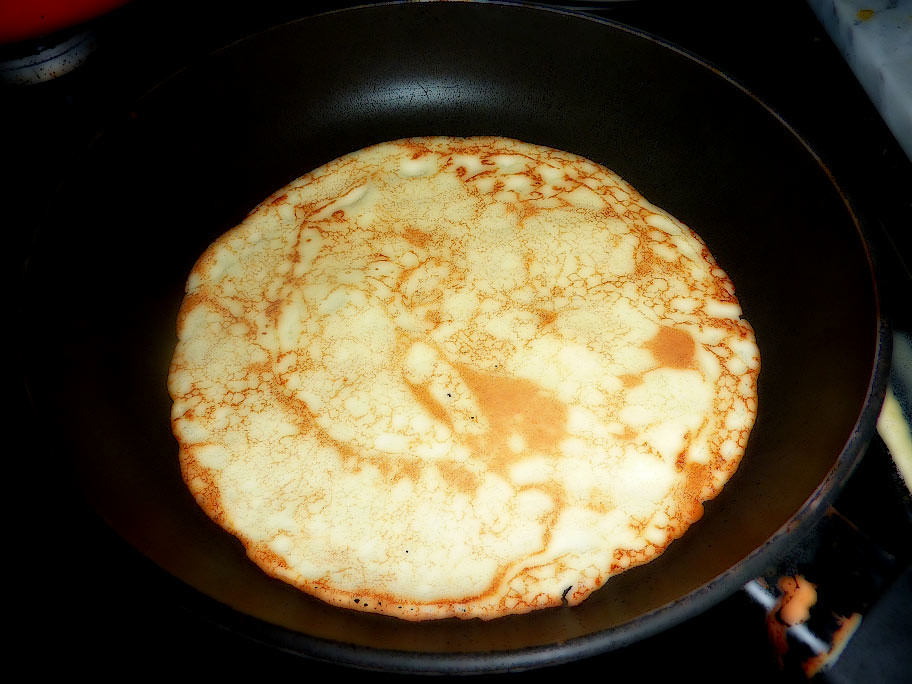 Now for the filling.
Sauté the shallots and garlic in the butter. You want them soft and translucent but not coloured.
In a bowl combine the shallots and garlic with the goat's cheese.
Add the olive oil and mix until everything is combined and creamy.
Stir in the chives and parsley.
Season to taste.
Find a 8″ frying pan and make your crêpes in the usual way. If you don't know how to do this there are plenty of videos on Youtube which will show you how … such as this crazy guy. Stack the crêpes as you make them … you should end up with 10-12.
Next construct your crêpes
Spread a spoonful of the cheese filling on a quarter of the crêpe. Fold in half and then in half again to form a triangle. Continue until you have run out of crêpes and filling.
Place in a moderate oven for a couple of minutes to warm through.
Serve with a crisp green salad.
Verdict: Tangy goatiness wrapped up in a soft blanket of pancake. Very good indeed. The quantity is right for two people although we could have eaten it all over again.

Drink: A few more Duff and a bottle of sub £5 red.

Entertainment: 'A Question of Taste'. Kirsty Wark asks foody questions of (invariably) smug food bloggers and William Sitwell sits behind a Mac laptop with the Apple logo taped over and reads out interesting food facts from Wikipedia. As niche and awkward quizes go, I prefer 'Antiques Master'.