At the last count Yumblog Junior had an impressive vocabulary of 38½ distinct words*. These range from the traditional and vital Mummy, Daddy, Dog, Cat through Cheese, Spoon, Cock-a-doodle-doo to more personal choices such as Shoes, Crumpet and Cheers (accompanied by the touching of the parental beer glasses). One of her first and still most frequently used words is B'nana – not surprising as along with olives, gherkins, apples and salami, this is one of the few things she'll consistently and enthusiastically opt to eat. As a result we always have a ready stock of bananas close to hand which sometimes, due to regular transport from kitchen to pram to bag and back again, can sometimes get a little bashed up. This recipe was an ideal way to use up some of these less than perfect bananas. Relax, an 18 month old toddler is not a prerequisite.
Preparation time: 15 minutes plus 1½ hours rising
Cooking time: 35-40 minutes
Skill level: easy
Makes: 1 loaf
Ingredients
ripe bananas – 300g (about 2)
lemon juice – 2 tsp
strong white flour – 500g
milk powder – 2 tbsp
butter – 2 tbsp
fast-action dried yeast – 1½ tsp
cocoa powder – 50 – 75g
warm water – 200 ml
caster sugar – 2 tbsp
salt – ½ tsp
plus icing sugar to dust
Peel your bananas and mush them on a plate with a fork.
Pour over the lemon juice and work in with the fork.
Put the flour, milk powder, salt and sugar in a large bowl. Add the butter and rub in with your finger tips until the mixture resembles breadcrumbs.
Stir in the dried yeast and mashed bananas. Gradually add enough of the warm water to form a soft dough.
Knead for 5 minutes on a floured surface – the dough should be smooth and elastic.
Return to the bowl, cover with oiled clingfilm, and set aside somewhere warm (not so easy here at chilly Yumblog Cottage) for an hour or so until it has doubled in size.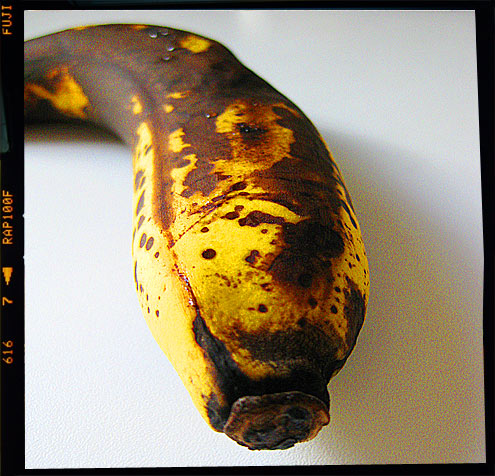 Tip the dough out onto a floured surface and knead well.
Sprinkle over the cocoa powder and knead until it is incorporated into the dough – you should get a rough marble effect.
Put the dough into a suitably sized and greased bread tin (1.8 litre).
Cover with oiled clingfilm and set aside somewhere warm for 30 minutes or until the dough has risen to the top of the tin.
Preheat your oven to 200c (gas mark 6).
Remove the clingfilm (obviously) and bake for 35-40 minutes until golden brown (and hollow sounding when tapped). Check after 20 minutes and cover with foil if it looks like it might be getting too dark.
Tip out onto a cooling rack and dust with icing sugar and a little more cocoa.
* Full list available on request. Please send self-addressed stamped envelope to: Flossy Flossington's Vocab, Yumblog Cottage, Yorkshire, Up North. YUM 123
Verdict: Delicious as is, even better toasted.

Drink: The perfect companion to a brew.

Entertainment: Watching the stream at the end of the garden turn from a tranquil trickle to an angry torrent