Waiting in the Tudor Chippy for the haddock component of our chippy tea to be cooked, I noticed 'Dab – 30p' chalked up on the menu board. Enquiring on your behalf, dear reader, I was told it was a lump of mashed potato deep fried in batter. Before I had time to ask for one to be added to my order a free sample had been slid onto my fish and chips, wrapped up in a copy of the Manchester Metro and handed over with a bid to 'Enjoy'.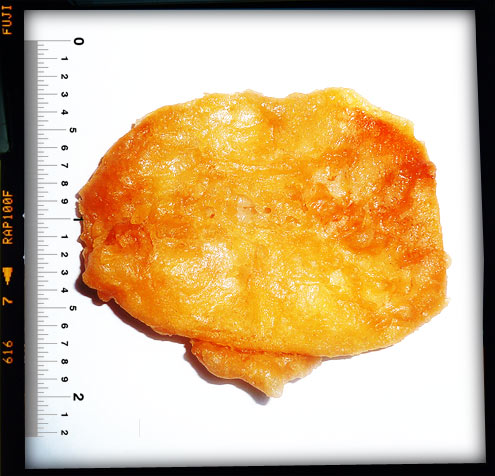 Detailed forensic examination at the Yumblog tasting laboratory confirmed that this was exactly what it is, a thin 5-inch disc of mash deep fried in batter. Possibly not a dish to win you a place in the final of MasterChef (even the current Celebrity edition), but at 30p it's a tasty carb-rich bargain.
Incidentally if you are ever find yourself in the area, The Tudor Chippy is highly recommended – friendly staff, lightly battered fish, well cooked chunky chips, and an inviting dog basket outside.