It was Saturday so we took our now routine trip across the wasteland to Victoria Park 'Village' for provisions. Wallet out. A score in the fishmonger, a Paul McKenna each at the offy and greengrocer, a few sharpeners at an impressive £4.40 a pint… where did that fifty quid go?
Well, most of it went on a rather delicioso tapas dinner of which this constituted a tasty third, accompanied by patatas bravas and a tonne of clams cooked in wine and garlic.
Preparation time: 5 minutes
Cooking time: 25 – 30 minutes
Skill level: easy
Serves: 2
Ingredients
1 onion – thinly sliced
1 red pepper – thinly sliced
6 largish tomatoes – roughly chopped
1 garlic clove – very thinly sliced
extra-virgin olive oil – a generous slug
hot smoked paprika (Pimentón picante) – ½ tsp (or to taste)
fresh herbs such as parsley/oregano/thyme – finely chopped – handful
2 tuna steaks
flour – a dusting
salt & pepper
Heat the oil in a deep frying pan, add the onions and sauté for a few minutes until beginning to soften.
Add the pepper, tomato, garlic and smoked paprika, season and cook over a lowish heat for 15 minutes by which time everything should be soft and saucy.
Meanwhile lightly coat the tuna steaks in seasoned flour.
Heat some olive oil in a frying pan, add the tuna and cook on both sides for a couple of minutes. The tuna should be thoroughly cooked for this dish, not pink. Set aside.
When your sauce is ready, taste and season if necessary. Stir in the chopped herbs.
Lay the cooked tuna steaks on top of the sauce, cover with a lid and cook gently for a further 10 minutes. (If at anytime the sauce looks like it is getting a little dry, add a splash of water)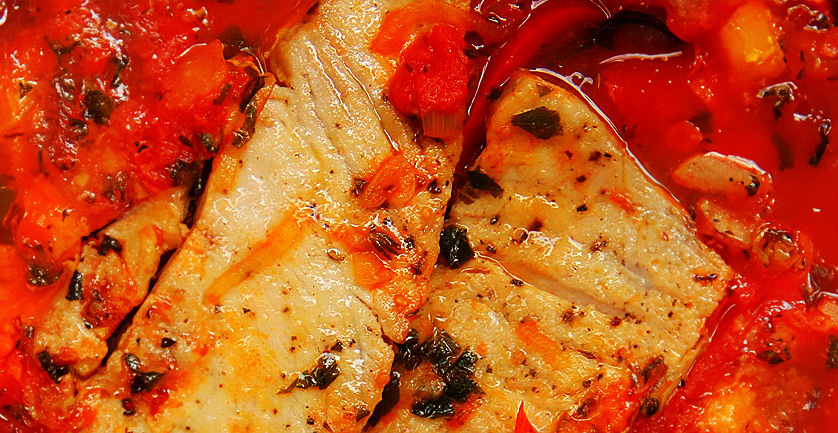 Serve as a main with good bread and a salad, or part of a tapas (we ate ours with clams cooked in wine and garlic and patatas bravas).
Verdict: This is a simple recipe which generously rewards with fresh sweet mediterranean flavours. The tuna remains moist and tender despite its relatively long cooking time. Very good indeed. Leftovers are also good eaten cold the next day.

Drink: The £4.40 pints of lager at the newly refurbished (and less cosy) Empress of India, a bottle of Golden Virgin, a few cans of Polish and the rest of the cooking wine.

Entertainment: 'Inception' on DVD. A sort of Matrix for grown-ups. Good stuff although a tad difficult to follow if like us you are suffering (ironically) from extreme sleep deprivation.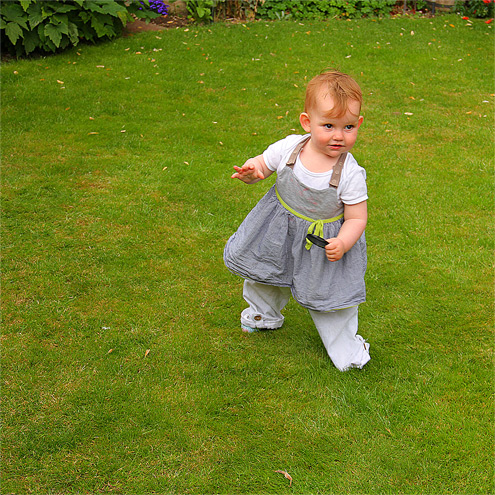 Yumblog Junior stands freestyle for the first time