It was Saturday morning and so the evening meal needed to be planned. She wanted something seafoody (but not with mussels). He wanted something spicy (but not Asian). They both wanted something tasty (not the usual slop they serve up). Cook books are leafed and websites consulted (but not food blogs as these are written by amateurs and are invariably rubbish). Several promising recipes are selected, deconstructed, rearranged, added to, subtracted from and finally welded back together. Kitchen cupboards are examined and a list is compiled. A journey is made across the railway tracks to Victoria Park Village. Ingredients are bought. Clams have sold out (but substituted with king prawns). There are a few post-shopping celebratory beers in The Lauriston. They both agree it has been a successful mission.
And that dear reader(s) is the trouble we go to to bring you these recipes. I hope you appreciate it. We don't get paid for this you know. It's not as if we even enjoy food.
Preparation time: 25 minutes
Cooking time: 30 – 45 minutes
Skill level: Despite the long list of ingredients this is a very quick and easy recipe
Serves: 2
Ingredients
1 shallot – finely chopped
½ leek (white part) – finely chopped
1 carrot – finely chopped
1 celery stick – finely chopped
½ fennel bulb – finely chopped
1 garlic clove – finely chopped
1 chilli – deseeded – finely chopped
butter – a big knob
tomato ketchup (or purée) – 1 tbsp
2 tomatoes – skinned and roughly chopped
white wine – 90ml
brandy – 25ml
1 bay leaf
fish stock – 400ml
crème fraiche (or double cream) – 75ml
cayenne pepper – pinch
smoked paprika – 1tsp (or to taste – this stuff tends to be pretty powerful)
assorted fish (cut into bite-size chunks) and shellfish (we had cod, red mullet and king prawns) – 400g
8 new potatoes – cooked
1 carrot – sliced into thinish batons and cooked
green beans – chopped and cooked
fresh parsley – handful – chopped
juice of half a lemon
s & p
Start by cooking your potatoes, carrots and beans.
Meanwhile, melt the butter in a large heavy bottomed pan over a low heat.
Add the shallots, garlic, chilli, leek, carrot, fennel and celery and gently cook until softened but not coloured (10-15 minutes).
Add the tomato ketchup, tomato, white wine and brandy.
Turn up the heat and bring to the boil – cook until the liquid is reduced by half.
Add the bay leaf, fish stock and crème fraiche and bring up to the boil.
Reduce the heat to a simmer and cook until the volume has halved.
Add the cayenne pepper, paprika, chunks of fish and shellfish, plus the cooked potatoes, carrots and beans.
Simmer for no longer than five minutes, or until the fish is just cooked.
Add the parsley and lemon juice, give it a quick stir and serve.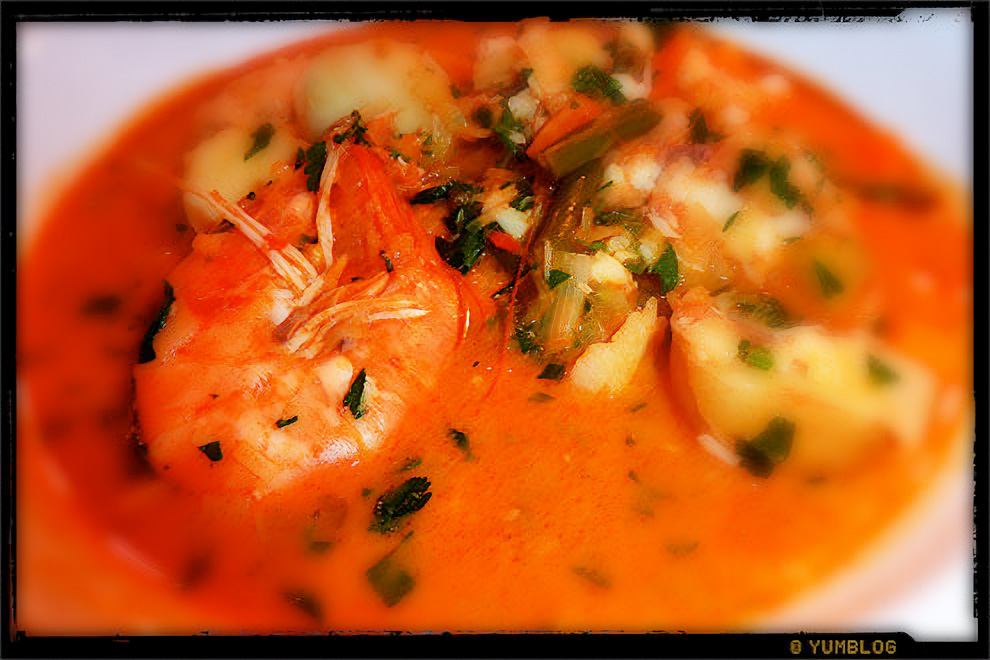 Serve with lightly toasted bread, rubbed with garlic.
Verdict: Boy, this is good. Fishy, spicy and complex with a great depth of flavours… and quick and easy to make to boot.

Drink: A couple of pints at The Lauriston after shopping, a few genial bottles of ale whilst cooking, and the rest of the white to accompany.

Entertainment: Starting to re-watch the brilliant and shamefully underrated '15 Storeys High' – with both series going for a fiver on Amazon, you'd be a mug not to.