A recent trawling of the recipe archive of the excellent Australian Gourmet Traveller Magazine website, produced among other things, this simple 'one-pot' fish dish. Instead of cod we opted to use the (considerably) cheaper and (coincidentally) sustainable whiting and spend the money we saved on an impressive quantity of prawns.
Preparation time: 5 minutes
Cooking time: 25 – 35 minutes
Skill level: easy
Faff level: 1/10
Serves: 2
Ingredients
2 large cod fillets (about 250g each) – or other firm white fish – *as already mentioned, we opted for the much cheaper whiting
8 tiger prawns – heads removed, cleaned and deveined
3 ripe tomatoes
1 small red onion – thinly sliced
2 cloves of garlic – thinly sliced
3 bay leaves
1 tin of butter beans – drained and rinsed
dry white wine – 100ml
extra virgin olive oil
S&P
Pre-heat the oven to 200°C (gas mark 6)
Grate the tomatoes (on the course side of the grater) into a bowl and set aside. Discard the skin.
Wash, pat dry and season the fish and prawns. Place in an oven-proof dish and drizzle with olive oil.
Add the onion, bay leaves, garlic, tomato, butter beans and wine. Season again.
Place in the oven and bake for 30 minutes or until the fish is cooked.
Drizzle with some more olive oil and serve with a good bread to soak up the juices.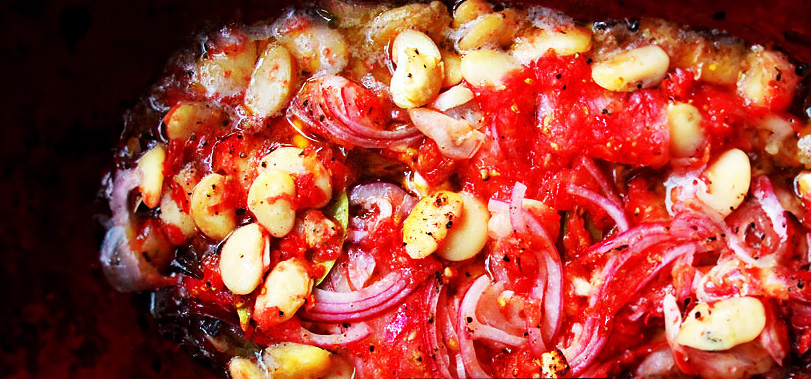 Verdict: Despite being a very easy one-pot recipe requiring virtually no preparation, this dish rewards with good flavours for very little effort. As a bonus there is plenty of the wine sauce which is yummy mopped up with bread. The inclusion of saffron and a spoonful of aioli* could elevate this from a good Saturday night TV dinner to something you'd be happy to serve up to guests.

Drink: A couple of post-Waitrose pints at The Cat and Canary and the rest of the bottle of white.

Entertainment: The third and final Sherlock Holmes.
* Or as the voice-over kept calling it on Celebrity MasterChef, 'garlic aioli'