There are some recipes you can taste just by reading them. This was one such recipe and it read delicious.
Preparation time: 10 – 15 minutes
Cooking time: 25 – 35 minutes
Skill level: easy
Faff level: 3/10
Serves: 2
Ingredients
1 red pepper – cored and cut into 1cm strips
1 yellow pepper – cored and cut into 1cm strips
1 large onion – thinly sliced
3 ripe tomatoes – roughly chopped
muscovado sugar – 2 tsp
1 chilli – finely chopped
2 bay leaves
3 sprigs thyme – stripped and chopped
parsley – chopped – 1 tbsp
coriander – chopped – 1 tbsp (plus more to scatter at the end)
cumin – ¼ tsp
saffron strands – ¼ tsp
smoked paprika – ¼ tsp
4 free-range eggs
olive oil
water – up to 125ml
s & p
First find a large deep frying pan or saucepan.
Add a good slug of oil and sauté the onion for two minutes.
Next add the peppers, chilli, sugar, bay leaves, thyme, parsley and coriander, and cook over a high heat for a couple of minutes until the peppers start to soften and intensify in colour.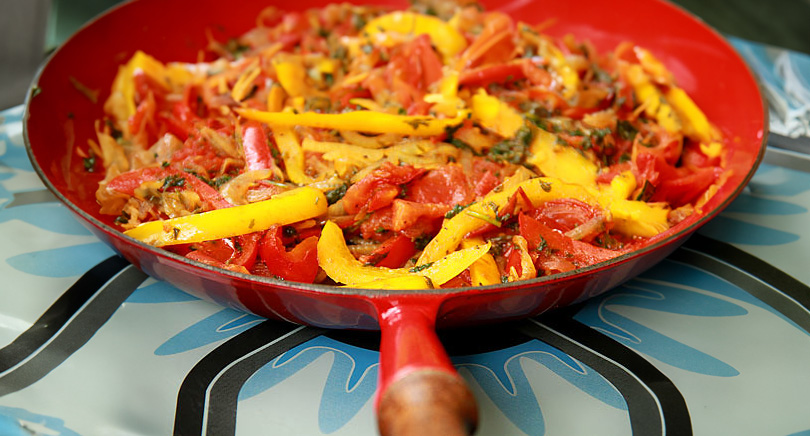 Add the tomatoes, saffron, paprika, cumin, salt and pepper and cook on low heat for 15 minutes. Stir frequently and add enough water to keep everything loose and moist.
Taste, season, taste, season, etc.
This dish is going to be served in individual pans straight from the hob*, so you need find 2 small frying pans and divide this mixture between each.
Break 2 eggs into each pan (it helps to make indentations in the sauce with the back of a spoon), season, cover and cook over a very low heat for 5 – 10 minutes or until the egg whites have set but the yolk is still soft.
Sprinkle with more coriander and serve up with a few chunks of good bread.
* Obviously you don't have to do this, you could stick to the one pan and serve up on plates.
Verdict: A sweet gently spiced dish which makes a great weekend brunch treat. The flavourings are only a guide, so experiment with different herbs and spices (riffing around a Middle Eastern theme).

Drink: A strong heavily sugared k4e.

Entertainment: Now that I've discovered Yumblog Junior finds my dancing hilarious, the entertainment possibilities are endless.