For anyone who hasn't eaten this butter and cheese laden French take on mashed potato let me tell you it is more comforting than being hugged by a 6 foot Angora rabbit with a PhD in Applied Cuddling. More comforting than lying in a bath of warm Lenor as a Labrador puppy nuzzles your neck and Nurse Gladys Emmanuel whispers "Relax, everything's going to be all right". More comforting than … well you get the point.
Holding image: Photographs still being processed at Snappy Snaps

Preparation time: 5 minutes
Cooking time: 1 hour (ish)
Skill level: easy
Serves: 2
Ingredients*
floury potatoes (we used Cyprus) – peeled and cut into quarters – about 500g
2 garlic cloves
milk – 80ml
butter – roughly chopped – 50g
Cantal cheese* – coarsely grated – 200g
sea salt and white pepper
* You can buy this at the Waitrose cheese counter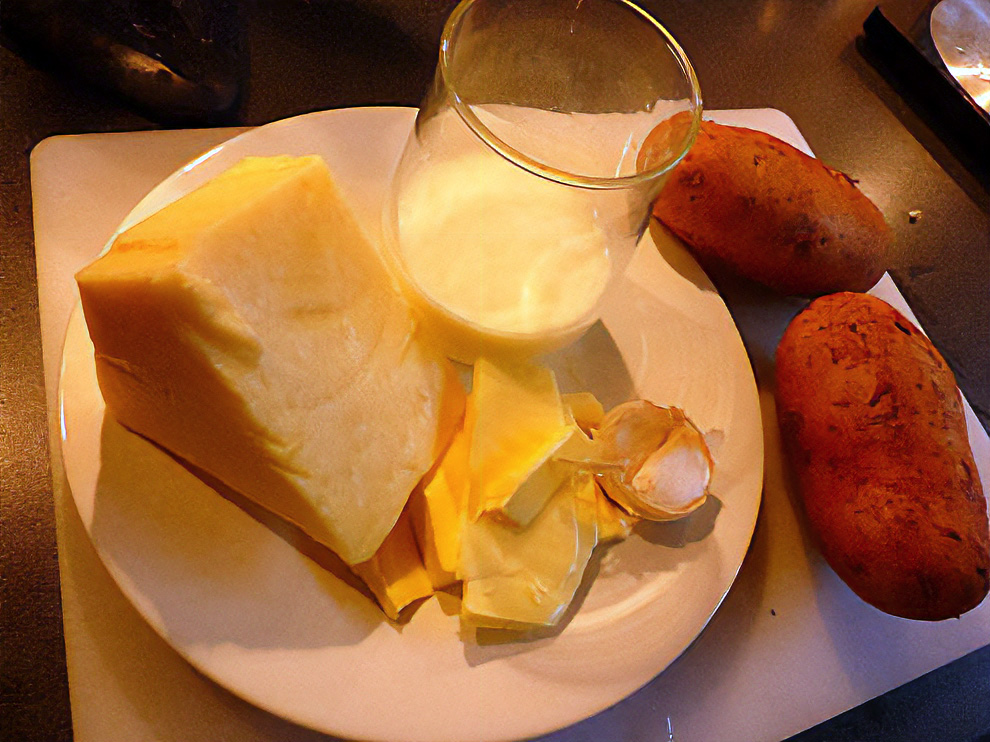 Yes, that much cheese for those few potatoes.
Place the potatoes and garlic in a large saucepan, cover with cold salted water and cook over a medium heat for 35 – 45 minutes or until tender.
Drain and return to the saucepan to steam dry for 1-2 minutes.
Meanwhile, put the milk and butter into a small saucepan and gently heat below a simmer for 3-4 minutes. Set aside but keep warm.
When cooked, pass the potatoes and garlic through a ricer or mouli into a clean saucepan.
Slowly add the milk/butter mixture – stirring continuously until smooth.
Return to low heat and add cheese a little at a time, stirring continuously until mixture is smooth and elastic (10-15 minutes).
Serve hot (traditionally with sausages or roast meat)
Verdict: Struth, this is a rich, smooth, glutinous cheesy delight. Less of a cheesy mash and more of a cheese sauce with a bit of potato in it. Make this once, don't skimp on the ingredients and indulge yourself.

Drink: Some Interflora ales followed by a bottle of red.

Entertainment: 'Surrogates' on DVD. Bruce Willis stars in what could have been a great sci-fi film but ended up as just an enjoyable distraction.