Anaheim peppers are essentially mild with an unexpected and pleasing peppery warmth which registers a modest 500 to 2,500 on the Scoville scale. If you can't get hold of them use the common or garden red pepper and cut it into 1 – 2cm strips.
Preparation time: 5 minutes
Cooking time: 30 – 50 minutes
Skill level: very easy
Serves: enough for 2 – 4 people as part of a larger mezze
Ingredients
Anaheim peppers – about 21 (or 2 large red peppers)
anchovy fillets in extra virgin olive oil – 50g (small tin)
1 red onion – thinly sliced into rings
5 salted black olives – stoned
2 tomatoes – sliced (optional)
capers – 1 tbsp
extra virgin olive oil – a good slug
a squeeze of lemon juice
freshly ground black pepper
Pre-heat the oven to 200c (gas mark 6).
Cut the peppers in half, remove the seeds and pith and place in an oven dish.
Add the onion rings, tomato and anchovies (including the anchovy oil)
Sprinkle over the capers and olives and drizzle with more olive oil.
Add a few twists of black pepper and mix it all together with your hands to ensure everything is coated in oil.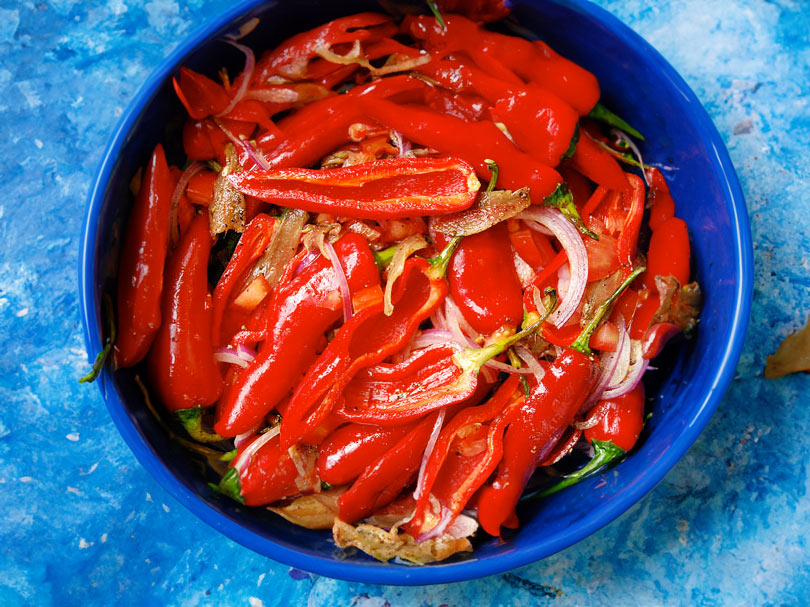 Place in the oven and cook for 30-50 minutes or until the peppers are beginning to wrinkle and blacken.
Remember to stir occasionally so that everything cooks evenly.
Remove from the oven and squeeze over a little lemon juice.
Allow to cool and eat warm/cold.
Verdict: Boy, these are good. Eaten cold they are a sweet, salty, chewy, peppery treat.

Drink: Golden Ales

Entertainment: The ever watchable (apart from the Simon King bits) 'Springwatch'.