I can see every red-blooded carnivore spitting derision at the idea of a tofu 'steak', and to be honest when I came across this recipe in the excellent 'Harumi's Japanese Cooking' I was dubious myself. OK, so this isn't a real steak such as you'd get in a Harvester "Have you used a knife and fork before?" Bar and Grill, but it is none-the-less succulent and tasty.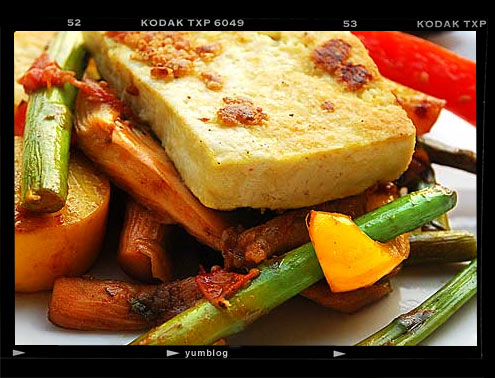 A tofu steak gently cradles a piece of asparagus in its pepper hand
Preparation time: 10 minutes plus 30 minutes drying tofu
Cooking time: 10-15 minutes
Skill level: Easy

Ingredients
fresh tofu – 200g
selection of vegetables such as courgette, red/yellow pepper, asparagus, oyster mushrooms, spring onions, tomatoes, etc.
garlic – 3 cloves – crushed
plain flour
vegetable oil
s & p
Start by wrapping the tofu in kitchen paper and placing in a sieve for 30 minutes to remove the excess moisture.
Prepare the vegetables – cut courgettes into fairly thick slices, cut asparagus and spring onions in half, cut peppers in strips, etc.
Heat some oil in a wok, add half the garlic and fry for a few seconds. Add all the vegetables and fry quickly over a high heat until just tender. Put aside and keep warm.
Cut the tofu into four steaks, rub with the remaining garlic and roll in seasoned flour.
Heat some oil in a heavy-bottomed frying pan and add the tofu. Fry for a few minutes until the underside is golden, turn over and repeat.
At the last moment return the wok to a high heat and quickly bring the vegetables up to temperature.
Spoon out the vegetables and top with the steaks.
Serve with soy sauce, wasabi paste and/or pickled ginger.
Verdict: Like I said, you'd think a slab of fried tofu with very little done to it would be as bland as the Radio 2 play list, but you'd be wrong. It is in fact succulent and tasty and a perfect partner to the crunchy vegetables.

Drink: Beer before, wine during.

Entertainment: An episode or two of the preposterous but highly addictive first series of '24'.