As Winterval is upon us and Festivus draws near, it's once again time for the culinary and social event of the year – the Yumblog Villas mince pie and mulled wine yuletide gathering (Smart-casual, no riff-raff).

You of course were not invited, but if dear reader(s) you had managed to scale the perimeter and evade the hounds, you might have been lucky enough to squash your envious nose against a window and gaze slack-jawed and incredulous upon the wonderous delights and beautiful people within. Once your over stimulated brain had processed the glitter and glamour, your dazzled eyes would have settled upon a banquet of such ambrosial delight, tears of joy would have streaked down your unwashed face before forming a puddle beneath your cold, shoeless feet. One such delight was this Stollenkonfect, bitesize morsels of festive loveliness.

Happy Christmas lovely reader(s).

Now get off our land.
Preparation time: 40 minutes
Cooking time: 25 minutes
Skill level: medium
Makes: 36ish
Ingredients
raisins – 100g
mixed peel – 30g
dark rum or brandy – 1 tbsp
plain flour – 300g
cornflour – 50g
caster sugar – 75g
baking powder – 1 tsp
bicarbonate of soda – ½ tsp
sea salt – pinch
ground cinnamon 1 tsp (very much optional in this house)
ground cloves – ½ tsp
nutmeg – a grating
finely grated zest of 1 lemon
1 egg
unsalted butter (at room temperature) – 120g
quark – 200g
vanilla extract – 1 tsp

To coat

icing sugar – 220g
unsalted butter – melted – 130g
Preheat the oven to 180°C/160°C fan
Line 2 large baking trays with non-stick baking paper.

Put the raisins and mixed peel in a bowl, pour over rum/brandy and set aside to infuse.
Put all the dry ingredients (from plain flour to grated lemon zest) into a large mixing bowl and stir to combine.
Crack in the egg and add the butter, quark, vanilla extract and dried fruit and rum/brandy.
Get your hands in and mix everything together to form a soft sticky dough.
Set aside to 10 minutes to allow the bicarbonate of soda to activate.

Pinch off small walnut sizes of dough and roll into squashed balls.
Place on the prepared baking trays leaving space between them for expansion.
Bake in the centre of the oven for 20-25 minutes until golden brown. Turn the trays around halfway through to ensure an even bake.

Meanwhile, sift the icing sugar into a large shallow dish.

As soon as they are out of the oven, brush each stollen all over in the melted butter and then roll into the icing sugar. You want a decent covering.

Place on a wire rack to cool.

Just before serving dust with a little more icing sugar.

Enjoy.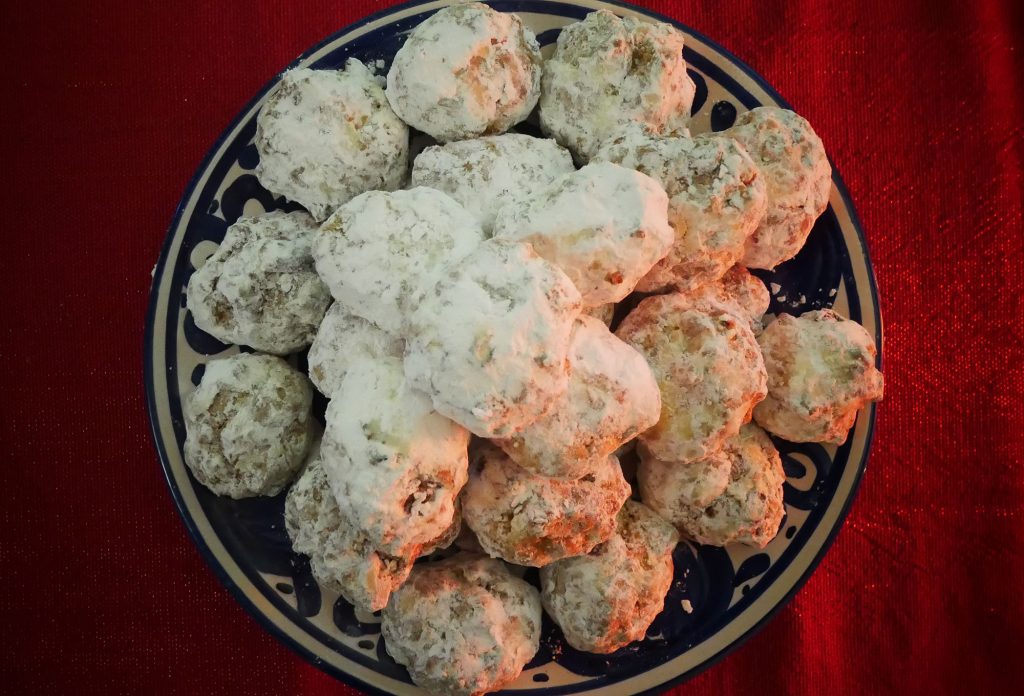 Verdict: Toothsome, bit-more-than-one-bite-size packets of festilicious scrumminess. A big hit with the beautiful people. Alternatively, why not try our more traditional, full size stollen?

Drink: Feuerzangenbowle obviously, along with wines (all colours) and beers (all types).

Entertainment: Coincided with the World Cup final. Argentina victory.