So a Frenchman arrives bearing cheeses and wines which you duly wolf for lunch, but what to feed him for dinner? Well trad English had to be the way forward since his culinary experience has not really crossed the Channel (or The Sleeve as they call it in France). And Pot-kicker-T isn't overenamoured of the English kitchen so unlikely to have educated the fellow, 'in England they don't like food and everything comes out of tins'. Not her words that I'm aware of, but she does come out with similar nonsense. So rice pudding anyway.
Preparation time: 10 minutes
Cooking time: 3½ – 4½ hours (yep that's not a typo, 3½ – 4½ hours)
Skill level: Easy
Recipe: Simon Hopkinson
Ingredients
pudding rice – 100g
full-fat milk – 1 litre
caster sugar – 75g
butter – 65g
double cream – 150ml
½ a vanilla pod, split lengthways
tiny pinch of salt
Ideally for this recipe you will need a heavy-bottomed casserole dish which is suitable for both the oven and the hob.
Preheat the oven to a cool 140°C (gas mark 1).
On the hob, melt the butter in your casserole dish and add the sugar. Stir over a gentle heat until it has become soft and gooey like toffee.
Add the rice and continue to stir until the rice is puffy, pale brown and fully coated in the sugar mixture.
Add the milk which will hiss angrily when it hits the dish. Use a wooden spoon to break up any lumps.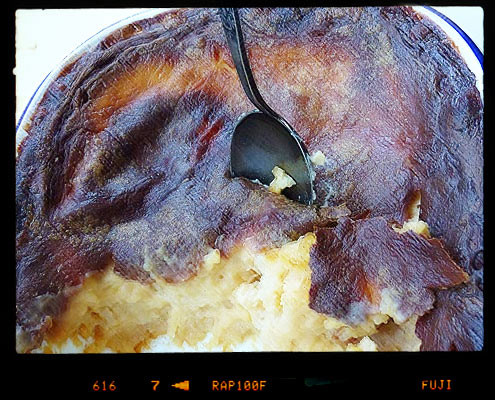 Add the vanilla pod and squash it around a bit to release the seeds.
Add cream and salt and bring to the boil.
Place in the oven and cook slowly for 3 – 4 hours until it has just started to set and has a tasty skin on top.
Simon Hopkinson said to eat this warm or cold, but never hot, so we did as we were told.
Verdict: Luxurious, creamy not overly sweet with a lovely butterscotch/toffee finish. Delicious warm. Delicious cold. Delicious.

Drink: A heady variety of better than average wines.

Entertainment: An evening of sibling badinage for her, an evening of listening to sibling badinage for him.