Consider the humble chickpea. Nutritious, ubiquitous, tasty, cheap, and as versatile as a 46-piece socket set. It can be stir-fried, casseroled, tagined, enstewed, devilled, saladated, hummouserised, soupified, and in this case, masalaed. If you're contemplating doing something interesting with a tin of chickpeas this weekend, we here at Yumblog Villas urge you to give this a go.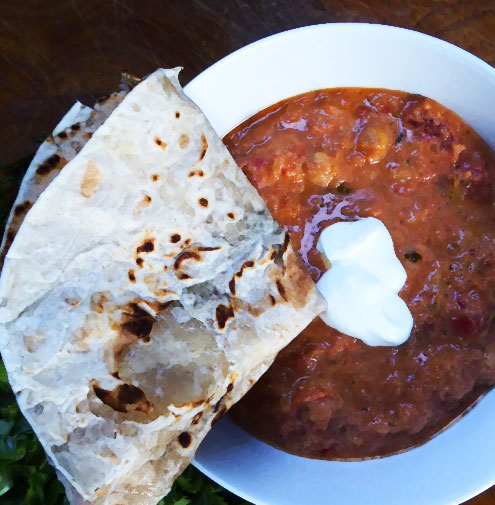 Preparation time: 10 minutes
Cooking time: 25 minutes
Serves: 2 hungry people
Skill level: as easy as opening a tin of chickpeas
Ingredients
1 medium onion – chopped
3 cloves of garlic – finely chopped
piece of fresh ginger – about a 3cm length – chopped
2 green chillies – finely chopped
coriander – small bunch – stalks removed and retained, leaves roughly chopped
olive oil – good glug
ground coriander – 1½ tsp
garam masala – 1 tsp
ground cumin – 1 tsp
chilli powder – ½ tsp
2 large ripe tomatoes – chopped
tin of chick peas – drained – 400g (you can of course use dried chickpeas and do the whole soaking overnight and boiling thing)
tin of chopped tomatoes – 400g
sugar –1 tsp
juice of half a lime
greek yoghurt – 60g (plus more to serve)
salt and pepper
To serve
Put the onion, garlic, ginger, chilli and coriander stalks in a small food processor and process until it is a smooth paste.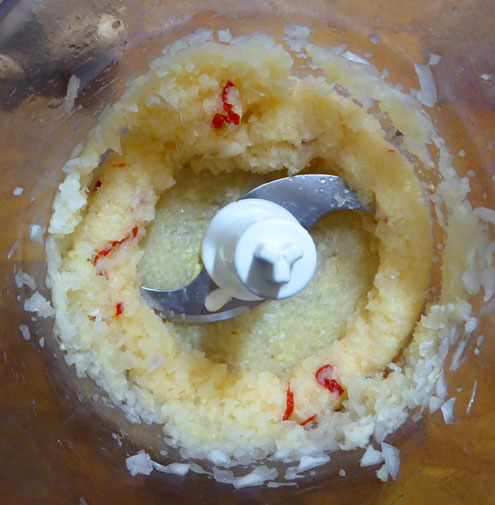 Heat the olive oil in a heavy based saucepan, stir in the onion paste and sauté for 5 minutes.
Add the spices and stir for a minute until fragrant.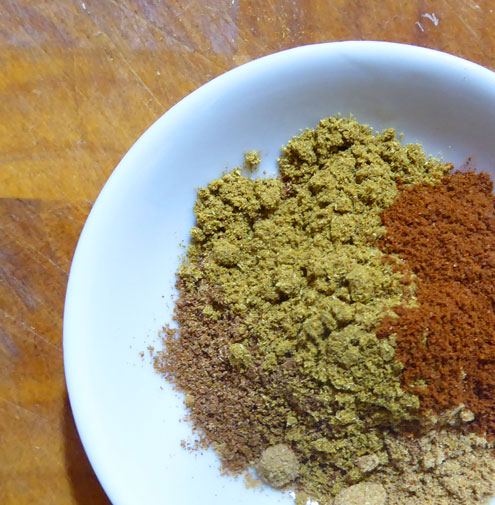 Add the fresh tomatoes and cook for a further 2 – 3 minutes until starting to soften.
Tip in the chick peas, tinned tomatoes and sugar and simmer gently for 15 minutes so all the flavours blend and develop.
Squeeze in the lime juice and season to taste.
Stir in the yoghurt and heat through.
Serve with the flat breads, extra yoghurt and a generous sprinkle of chopped coriander.
Verdict: A winner. A spicy, smooth and comforting dish which delivers a lot of flavour for relatively modest effort. Works equally well as a quick midweek dinner or a weekend treat. Don't skimp on the ginger.

Leave out the yoghurt and substitute with a dairy-free soya-based coagulate (not entirely recommended) and you could have yourself a vegan dish.

A glut of chickpeas this harvest? Give this 'Seafood with Chickpeas' a go, or possibly this 'Chickpea Soup', or for the more adventurous in search of culinary novelty, a 'Yoghurt & pearl barley soup with spiced chickpea koftas'.

Drink: Monday–Wednesday is still strictly alcohol free*, so just fizzy water.

Entertainment: Ever more frequently meal times have been interrupted by Yumblog Junior insisting she isn't tired.
* Excluding holidays (annual and bank), birthdays (and the week leading up to), hot summer evenings, cold winter nights, weddings, funerals, bar mitzvah, high school proms, stags, hens, payday, gigs, political rallies, marches, elections, referenda, etc.