Lately crabs have become very much the decapodic crustacean of choice here at Yumblog Towers. This is a preference very much aided by the fish stall at Roman Road Market which sells big brown locally caught (Mile End Road at low tide) specimens for under four (s)quid.
Having recently made this magnificently delicious crab tart by Rick Stein, for comparison and out of the need for more double cream in our diet we turned to Simon Hopkinson.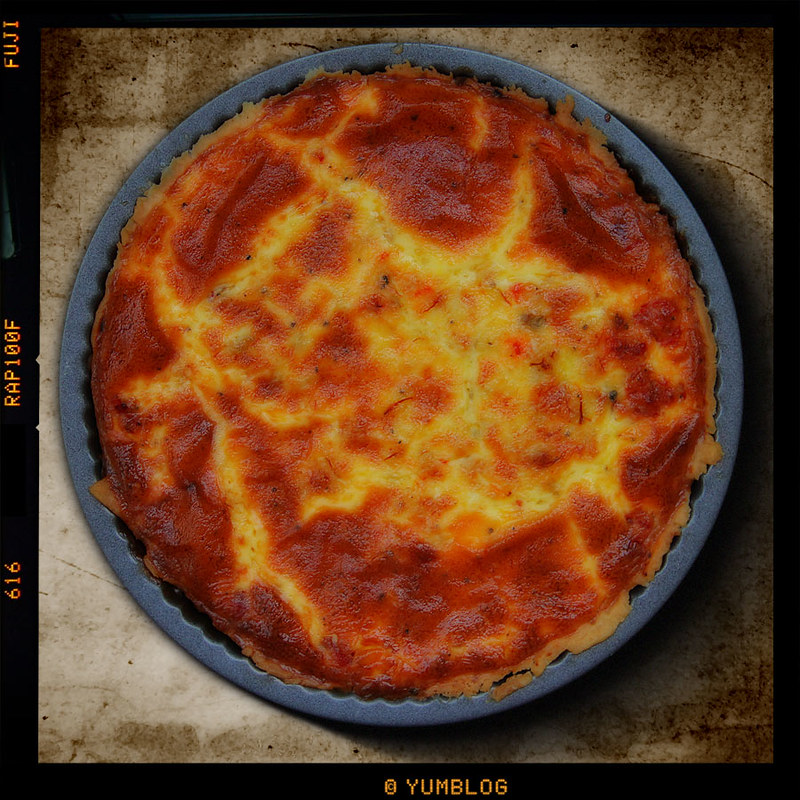 Preparation time: 10 minutes – 4 hours (depending on your crab butchery skills)
Cooking time: 1 hour – 1 hour 15 minutes
Skill level: medium
Serves: 4
Ingredients
For the pastry case
plain flour – 110g
butter – cut into cubes – 50g
1 egg yolk
pinch o' salt
For the filling
1 tin of chopped tomatoes – 225g
2 garlic cloves – finely chopped
1 bay leaf
1 sprig of thyme
double cream – 300ml
saffron threads – a good pinch
4 egg yolks
white meat, plus a little of the brown, from a 900g cooked crab
s and p
Make the pastry by rubbing the butter into the flour, then adding the egg yolk, salt and enough water to form a dough.
Wrap in cling film and chill for at least 30 minutes.
Preheat the oven to 180C (gas mark 4).
Roll out the pastry as thin as possible and line a 20cm (8inch) tart or flan tin.
Trim the edges, prick the base with a fork and blind bake for 15-20 minutes or until a pale golden brown and cooked through.
For the filling put the tomatoes, garlic and herbs into a saucepan and reduce over a medium heat until it is a thickish sauce.
Remove the herbs, allow to cool and then spread over the bottom of the pastry case.
Warm through 3 tbsp of the cream, add the saffron and allow to steep for a few minutes.
Beat together the egg yolks with the saffron cream and remaining cream. Season.
Loosely fold the crab meat into this custard mix and pour into the pastry case.
Bake in the oven for 30-40 minutes by which time it should be set and a pale golden brown.
Serve warm rather than straight from the oven.
Verdict: Lighter and 'quichier' than the Rick Stein tart. Tasty though. Very tasty.

Drink: The regular Saturday evening cocktail of beer and wine.

Entertainment: 'Stewart Lee – 90s Comedian' – a recent purchase on DVD from 'Go Faster Stripe'. Without a doubt his most 'shocking' set and therefore one of the funniest. A comedy genius. I suppose at some point we'll have to censor what we watch in front of Yumblog Junior. Or get her to bed a bit earlier.

Stew's hand