There were scenes of mild peril when I got my squid tubes home and discovered they were not, as I had assumed, empty, but in fact contained tentacles and all sorts of other body parts. Blogger-D had to step in and perform some deft and discrete fishmongery to remove the offending bits of cephalopod. Pathetic I know.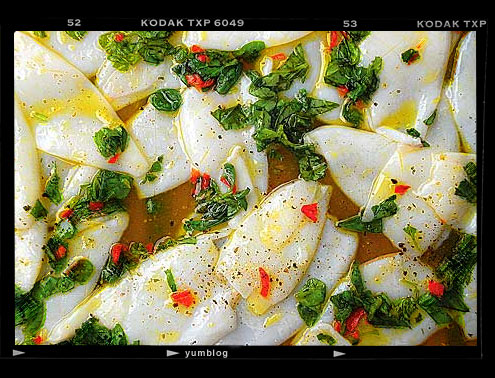 Preparation time: 20 minutes plus 30 minutes to marinate
Cooking time: a few minutes
Skill level: Easy

Ingredients
For the squid:
squid tubes – 400g – cleaned
olive oil – 2 tbsp
1 red chilli – deseeded and finely chopped
grated zest of 1 lemon, plus half its juice
fresh basil – handful – ripped
For the sauce:
2 red peppers – deseeded and quartered
1 yellow pepper – deseeded and quartered
garlic – 1 clove – crushed
olive oil – 3 tbsp
white wine vinegar – 1 tbsp
fresh basil – handful – finely chopped
s & p
Start by marinating the squid.
Cut the squid tubes in half, open out and score with a diamond pattern.
Mix together the chilli, lemon zest, lemon juice and basil with 1 tbsp olive oil, season and pour over the squid. Leave to marinate for at least half an hour.
To make the sauce, put the peppers skin-side up under a hot grill and leave until their skins are black and blistered. Transfer to a plastic bag, leave to cool a little and peel off their skins.
Place the peppers in a food processor along with the vinegar, oil, garlic and basil, and pulse until smooth.
Heat some oil in a heavy bottomed frying pan. When very hot, add the squid and fry very quickly until it becomes opaque.
Serve immediately with the sauce and a hearty green salad.
Verdict: A treat. Squid with a hint of chilli and a good peppery garlicky sauce.

Drink: Forewent the usual Friday night post-work lager binge* and went straight home to share a bottle of white.

Entertainment: A 24 followed by a QI.

* due to having binged the night before. We went to a gig you see, but it was foreshortened due to the stage losing its sound feed so the lovely ladies of Ladytron couldn't hear owt and their lovely tunes would surely have been spoiled. It was at the Astoria, perhaps they're running down the equipment now their fate has been sealed, boo, hiss, etc. We were promised a second go if we kept our tickets so not all bad. And we got to sample some fine Sam Smiths lagers at the marvellous Angel pub.