The beauty of this dish is you can do most of the prep work in advance and spend the afternoon in the pub. Not obligatory you understand, but highly recommended.
Preparation time: 10 minutes plus at least half an hour to marinate.
Cooking time: 15 minutes
Serves: 2 people although we had a welcome but unexpected guest and it comfortably stretched to 3
Skill level: easy – although common sense needed with the seasoning
Ingredients
For the marinade (you'll have to work out the proportions yourself):
olive oil
garlic
fresh rosemary and/or thyme – leaves stripped
chilli flakes
lemon zest
s & p
For the main dish:
2 tuna steaks – 200g each
4 handfuls of podded peas
2 handfuls of podded broad beans
fresh (or frozen) spinach – 200g
1 small bunch of fresh mint – leaves picked
juice of 1 lemon
olive oil
s & p
Start by marinating your tuna steaks.
Season the steaks on both sides with salt and pepper and place in a dish. Sprinkle over some roughly chopped garlic, chilli flakes, herbs and a little lemon zest. Pour over a good slug of olive oil, cover with cling film and refrigerate for at least half an hour.
Spend the afternoon at the Fox and Goose and drink far too much beer.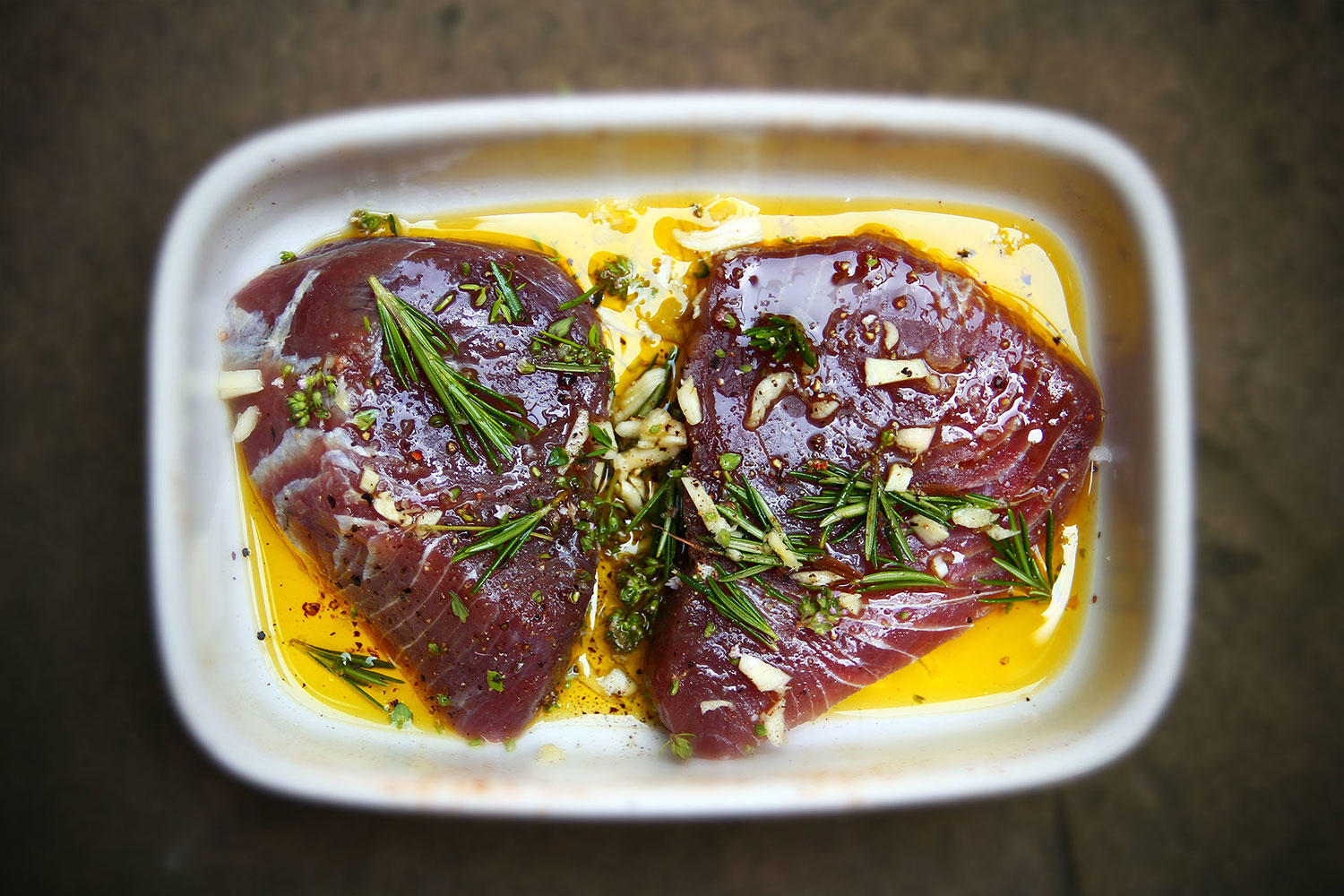 When you eventually stagger home, bring a large pan of water to the boil, add your peas and cook for 3 to 4 minutes. Remove them with a slotted spoon and set aside.
Add the broad beans to the pan and cook for 3 to 4 minutes. Add the spinach and cook for a further 30 seconds. Drain and leave to cool (you can pinch the skins off the broad beans if you want).
Pour about 80 ml of olive oil into a saucepan, add a good pinch of salt and several twists of black pepper. Chop up most of the mint and add to the oil along with the peas, beans and spinach. Add the lemon juice to taste. Put over a gentle heat to warm through.
Heat a griddle pan or barbecue until hot.
Lay on the tuna steaks, pour over some of the marinade and sear for 1 to 2 minutes on each side. Try not to overcook as you want the tuna to be a little pink inside.
Serve the tuna steaks on a bed of the peas/beans/spinach and garnish with a few mint leaves.
Verdict: The tuna is succulent, aromatic and (if barbecuing) slightly smokey. The vegetables are fresh, summery and zesty. Makes a great Saturday evening romantic dinner for three. Other tuna recipes to consider are this Mediterranean tuna, or if you have an ungrateful cat these Tuna Delights.

Drink: Many pints in the garden of the Fox and Goose before, several bottles of Rosé during and after.

Entertainment: Talk of moving, bee keeping in Bootle and communes with our guest followed by Buddhism and Zombies with our recently discovered and ever-amusing neighbours.