Obviously our enjoyment of Christmas was seriously curtailed by the devastating news of Prince Philip's hospitalisation – thank God the BBC ran half-hourly news bulletins to keep us up to date with every nuance of this never-changing national cataclysm. Here at Yumblog Cottage we tried to keep our subjective peckers up by preparing and scoffing a variety of delicious foodstuffs and washing them down with an alarming range of booze – it's what PP would have wanted. Anyway, one such preparation was this, the second of the three ways – the spicy gingery way.
Preparation time: 10 minutes plus 2 days to cure
Cooking time: none
Skill level: ridiculously easy
Serves: 4
Ingredients
2 fresh salmon fillets (skin on) – 400g
caster sugar – 40g
coarse sea salt – 40g
1 star anise – seeds removed and crushed
coriander seeds – crushed – 2tsp
fresh coriander – a few stalks – roughly chopped
fresh ginger – roughly chopped – 1cm piece
mirin (or dry sherry) – 1tbsp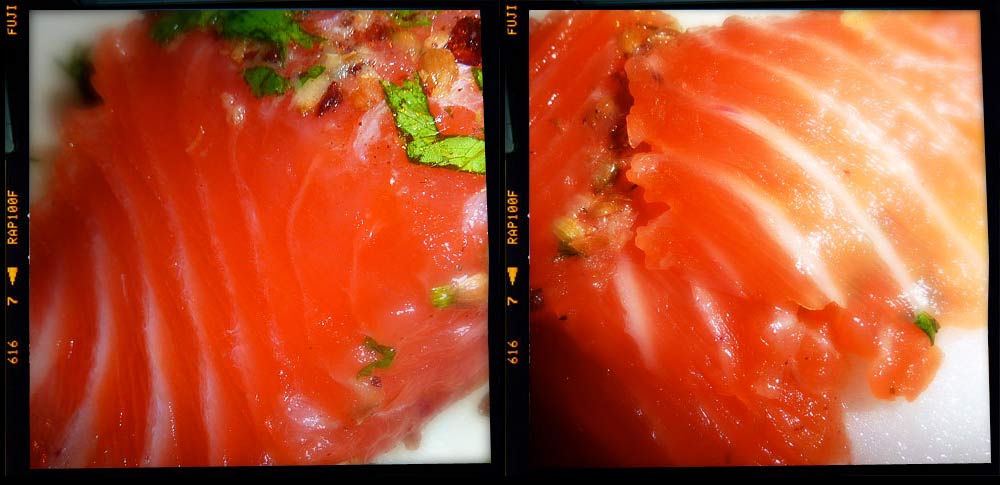 Place one piece of salmon skin side down on a piece of clingfilm.
Mix together all the other ingredients and rub this mixture onto the fish.
Place the other piece of fish on top, skin side up.
Tightly wrap in 3-4 layers of clingfilm.
Lay in a shallow dish (there will be some leakage), put a saucer/small tray/tin lid/etc. on top and weigh down with something heavyish.
Place in the fridge for 2-3 days, turning every 12 hours so the briny cure liquid permeates throughout the fish.
Unwrap, slice thinnish and enjoy with some thin strips of cucumber and a horseradish sauce.
Gravalax will keep in the fridge for around 5 days.
Verdict: Spicier (obviously) than gravalax #1. Tasty.

Drink: A shot or two of iced Vodka.

Entertainment: We had a guest, so technically we were the entertainment.