This is essentially a simpler version of the 'Spicy Seafood Stew' which can be found a few posts below, although none the inferior for it. It is based on a recipe from the excellent 'Rick Stein's Spain' which is itself based on a trad Spanish dish called 'All-i-pebre'. Feel free to continue the process of adaption yourself or alternatively if you are a more experienced and confident cook, why not give this ambitious recipe a go.
Preparation time: 5 minutes
Cooking time: 25 – 30 minutes
Skill level: easy
Serves: 2
Ingredients
raw peeled prawns – 400g
waxy new potatoes – 250g
crushed dried chilli flakes – ¼ tsp
1 garlic clove – very thinly sliced
extra-virgin olive oil – 60ml
hot smoked paprika (Pimentón picante)- ½ tbsp
fish stock – 300ml
salt & pepper
Wash (and peel if you want) the potatoes and cut into 1cm thick slices.
Place in a pan of cold salted water, bring to the boil and simmer for 5 minutes (they should be barely tender)
Drain and set aside.
Put the olive oil, garlic, chilli in a deep frying pan and cook over a medium heat for about 3 minutes until the garlic is lightly coloured.
Add the paprika and cook for a minute more.
Add the stock, season and bring to the boil.
Add the potatoes and cook over a high simmer for 10 -15 minutes until the potatoes are soft and the sauce has reduced and concentrated in flavour.
Add the prawns and cook for a futher 3 minutes until thoroughly cooked through.
Taste, adjust the seasoning and serve with plenty of good quality bread.
Verdict: A simple yet luxurious bowl of spicy tastiness. More fiery than a Beko Fridge-Freezer.

Drink: The standard Saturday evening cocktail of lager, fine summer ales and wine.

Entertainment: 'Shutter Island' on DVD. An enjoyable if overlong Film Noir with a clearly sign-posted twist towards the end*.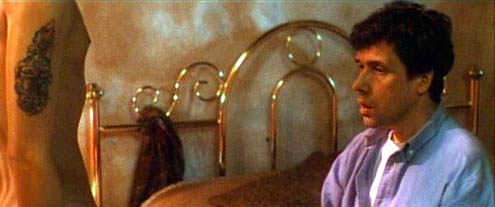 * SPOILER ALERT.
Leonardo DiCaprio turns out to be a man.
And a ghost.
And Luke's father.