Look, everyone I have an iPad Mini. In fact as I write this I'm on the morming commute steaming through the Calder Valley aboard the Northern Rail Executive Express. For those of you not in the know, the Northern Rail Executive Express is a sleek luxuriously upholstered silver bullet from the future which flashes silently and smoothly between Leeds and Manchester at speeds in excess of 550 mph. It has never been delayed or cancelled, is most reasonably priced and at this time of the day the buffet car serves croissants which would put a Parisian patisserie to shame.
For those of you in the know, the Northern Rail Executive Express is a seemingly random collection of tired, cramped, mismatched rolling stock which reluctantly and tardily trundles between the two hubs of major employment in the area. At peak hours it smells of whatever is currently blocking the toilet combined with the acrid perfume pumped out to mask the smell of whatever it is currently blocking the toilet. Off peak this heady Air de Toilette is invariably accompanied by the fragrance of joylessly consumed fried food. In my experience evening passengers not dining on the train are more than likely to be engaged in some level of drunken romantic entanglement – ranging from oral slobbering to vigorous and prolonged finger-fucking. Peasants the lot of you.
So here is some peasant food. Enjoy.
Preparation time: 15 minutes plus at least an hour to marinate.
Cooking time: 30-40 minutes
Serves: 2
Skill level: easy
Ingredients
400g tin of borlotti beans
1 small savoy cabbage
half an onion – cut into four
olive oil – a good slug
fresh rosemary – 5 sprigs (2 finely chopped and 3 whole)
2 bay leaves
stale bread – 100g
zest of 1 lemon
2 garlic cloves – one quartered and one finely chopped
s and p
Drain and rinse the beans and place in a bowl. Add the bay leaves, 3 whole rosemary sprigs, garlic quarters, onion quarters (technically eighths), a good slug of olive oil and mix everything together. Set aside for at least an hour.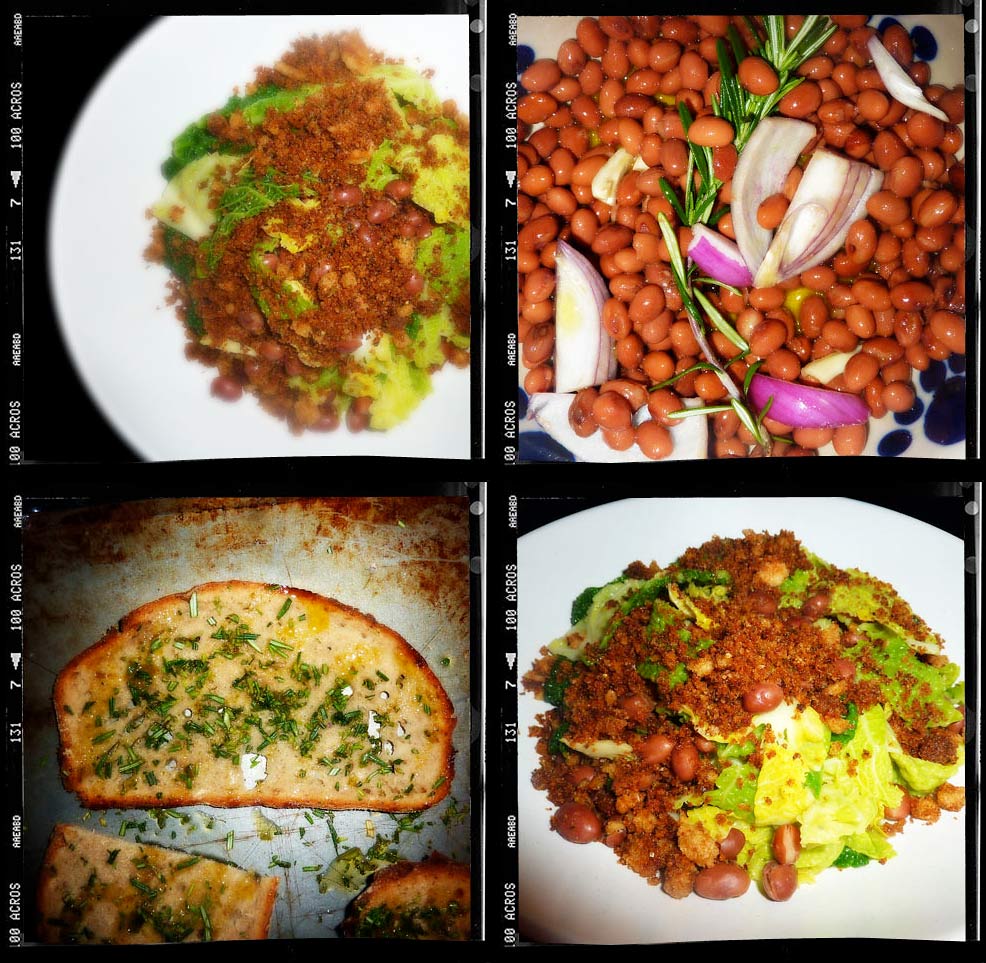 While your beans are marinating make your breadcrumbs:
Preheat oven to 180c/Gas mark 4. Put your slices of bread on a baking sheet, drizzle with olive oil and sprinkle with the chopped rosemary.
Place in the oven and bake until crisp and golden. Set aside to cool and then place in a food processor along with the finely chopped garlic clove and a little salt and pepper. Blitz into breadcrumbs and tip out into a bowl. Next drizzle in a little more olive oil and add the lemon zest. Stir everything together. Taste and season if necessary.
Separate the leaves of the cabbage, cut out any thick stalks and cut into thick strips.
Blanche in boiling water for a few minutes until just tender. Drain and drop into cold water. Set aside.
To finish the dish:
Remove the garlic, onion, rosemary and bay leaves from the beans and pour into a pan. Season with some salt and pepper and heat gently to warm through – taste and season if necessary. Then add the cabbage and continue to cook until at eating temperature.
Serve with a sprinkling of the flavoured breadcrumbs.
Verdict: Unusual, hearty, tasty peasant food for the middle classes. Good texture combinations.

Drink: Whatever peasants drink – probably WKD or Vodka & Redbull.

Entertainment: 'Unstoppable – 1,000,000 tons of steel, 100,000 lives, 100 minutes.' An unmanned, half-mile-long freight train speeds towards a city, a veteran engineer (Denzil Washington) and a young conductor (Bloke with blue eyes) race against the clock to prevent a catastrophe. Watchable twaddle.

Spoiler alert – it stops

Far from unstoppable: The 7:52 Executive Express to Manchester pulls up in Hebden Bridge station.