Three or four years ago (I'm sure my co-blogger can tell you the exact date *) we went on a mini train tour of East Germany which took us from Dresden to Berlin via Leipzig. If there had been a soundtrack** to this journey, it would have been the final slurps of a draining cocktail glass followed by an enthusiastic "Noch zwei Swimming Pool bitte".
Preparation time: 2 minutes plus 10 seconds shaking
Cooking time: 0 minutes
Skill level: easy
Serves: 2
Ingredients
white rum – 20ml
vodka – 20ml
blue curacao – 10ml
cream – 10ml
pineapple juice – 60ml
cream of coconut – 20ml
or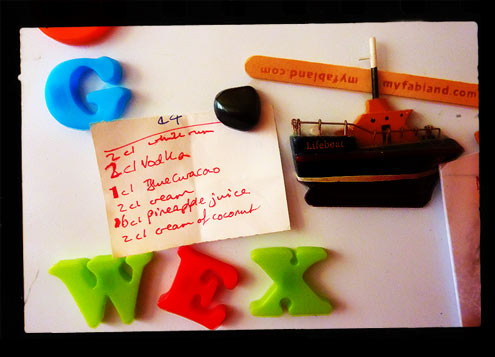 Flamboyantly pour all the ingredients into a cocktail shaker.
Shake.
Pour into a fancy glass over a little ice.
Add a straw or two if desired.
Drink.
Repeat.
Trabants in Dresden
Verdict: If you like the constituent ingredients, you'll love this.

Drink: Probably came midway between a bottle of Cava and a few vodka and tonics.

Entertainment: A mixture of TV and ever-deteriorating child care
* September 2007
** Actually for me it was 'Tarot Sport' by Fuck B*****s (somehow predicting the future as it was released in 2009)