Our New Year's Eve dinner found us straddling the 1,898 km between Croatia and Cyprus. Croatia served us the main course of these tasty prawns accompanied by a flat bread called Lepinja, and Cyprus a dessert of light and zesty rice pudding.

Croatia is classified by the World Bank as a high-income economy and ranks very high on the Human Development Index. The economy is dominated by the service and industrial sectors, agriculture and tourism. Croatia is ranked among the 20 most popular tourist destinations in the world.
Škampi na buzaru
Preparation time: 20 minutes (takes a while to sort out the prawns)
Cooking time: 12 minutes
Skill level: very easy
Serves: 2

Ingredients
whole raw prawns – 750g
olive oil – 75ml
1 plum tomato – skinned and finely chopped
garlic – 3 cloves – finely chopped
parsley – finely chopped – 2 tbsp
bread crumbs – 2 tbsp
white wine (we used Champagne as it was New Year's Eve) – 100ml
s & p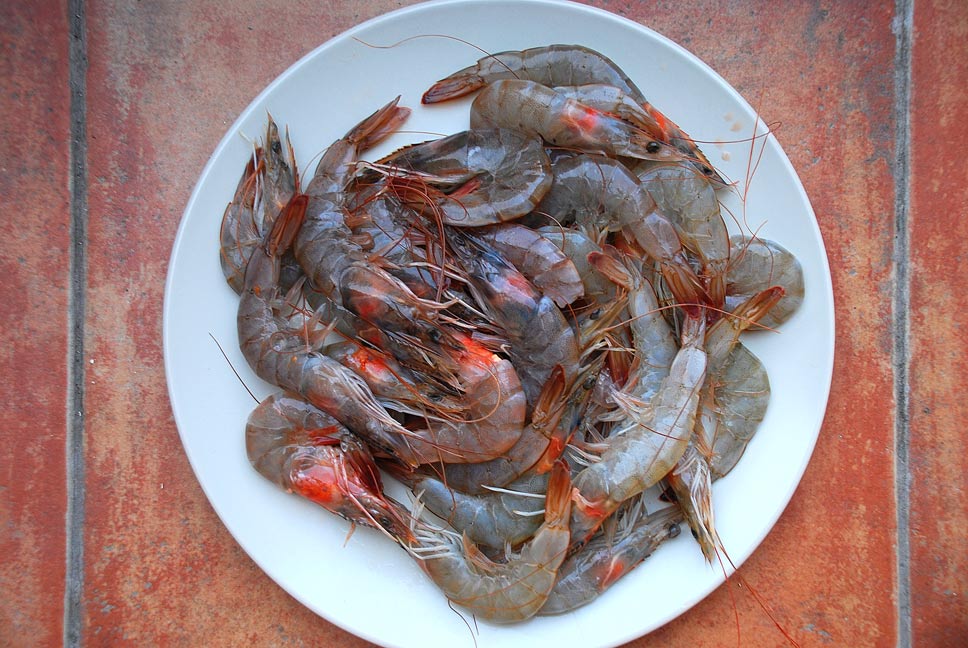 Prepare your prawns (de-head, de-shell, de-vein).

Heat the oil in large lidded frying pan.

Add the prawns and fry briefly.

Add the the chopped tomato, chopped garlic, half the chopped parsley, the bread crumbs and the white wine.

Season and stir everything together.

Cover and gently simmer for about 10 minutes or until the prawns are cooked.

Plate up and sprinkle the remaining parsley.

Serve with Lepinja.


Verdict: A toothsome bowl of protein. The prawns were plump and juicy, the sauce light and sweet.

Drink: French Champagne and Spanish red.

Entertainment: The Sound of Music.