If you would like to keep a fidgety child amused for an hour AND at the end of it have something tasty to dunk in your tea, this could well be the recipe for you. If you don't have a child of your own don't worry, you could always rent one … we hire ours out for £20 an hour (one change of clothes included).
Preparation time: 15 minutes plus 30-45 minutes chilling
Cooking time: 15-20 minutes
Makes: 20ish
Skill level: even a 3-year-old could make these (with a considerable amount of patient supervision and mess)
Ingredients
whole wheat flour – 100g
medium porridge oats – 100g
butter – 100g
soft brown or caster sugar – 50g
baking powder – 1tsp
milk – 1 or 2 tbsp
salt – pinch
fair-trade plain chocolate (50% minimum cocoa – not your Bournville crap) – 150g
If you are cooking with a child, persuade her/him to wash their hands.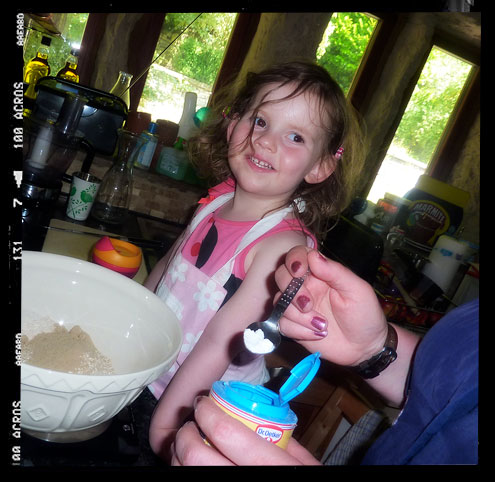 Pre-heat your oven to 180c/gas mark 4.
In a bowl mix together the flour, oats, sugar, baking powder and salt.
Rub in the butter until the mixture is the texture of breadcrumbs.
Add enough milk to give you a moist pastry.
Wrap in clingfilm and refrigerate for half an hour to firm up.
Sit on potty, then run upstairs and play with train set.
Remove from the fridge and roll out between 2 sheets of clingfilm (because the dough is quite delicate) to a thickness of 3mm.
Cut into 6-7cm (biscuit-sized) discs. Re-roll any trimmings.
Place on a lightly greased baking sheet and bake in the pre-heated oven for 15-20 minutes, until lightly browned and firm to the touch.
Sit on potty, then watch an episode of 'Mr Tumble'.
Remove from the oven and allow to rest for 5 minutes before transferring to a wire rack to cool.
Sit on potty, then do some drawing.
Melt the chocolate in a Pyrex bowl sitting on a saucepan of boiling water (make sure the water doesn't touch the bottom of the bowl).
Spread the melted chocolate over your biscuits and place in the fridge to cool and set.
Lick spoon and bowl, then sit on potty.
Verdict: Just like the chocolate digestives you can buy in those shops … but a lot better.

Drink: Tea is essential.

Entertainment: Justin Fletcher in his many guises.