A traditional Italian (Puglia) one pot dish of mussels, potato and rice.
Preparation time: 25 minutes
Cooking time: 1 – 1½ hours
Skill level: easy
Serves: 4 normal people or 2 greedy people with leftovers.
Ingredients
mussels – scrubbed – 500g
shell-on prawns – half pint (optional)
white wine – 50ml
1 bay leaf
2 cloves of garlic – chopped
1 star anise
4 Cyprus potatoes – sliced 3mm thick lengthways
cherry tomatoes – halved – 250g
½ onion – finely chopped
parmesan – finely grated – 125g
risotto rice – 200g
flat-leaf parsley – coarsely chopped – handful
extra-virgin olive oil – 40 ml
s & p
Preheat oven to 160C/gas mark 3.
Peel the shell-on prawns – set the prawns aside but keep the shells.
Place the mussels in a saucepan with the wine, bay leaf, garlic, star anise, prawn shells and 50ml of water, cover with a lid and cook over high heat, shaking pan occasionally, until the mussels open (3-4 minutes).
When cool enough to handle, remove the mussels from their shells and set aside (keeping 6 mussels in their shells for decoration).
Strain cooking liquid through a fine sieve or muslin and reserve (squash down the prawns shells with the back of a spoon to extract the maximum juice/flavour).
Layer one-third of the potato in the bottom of a large paella pan or wide high-sided baking dish.
Scatter over half the cherry tomatoes, half the onion. half the mussels and half the prawns.
Then scatter one-third of the cheese and half the rice evenly on top.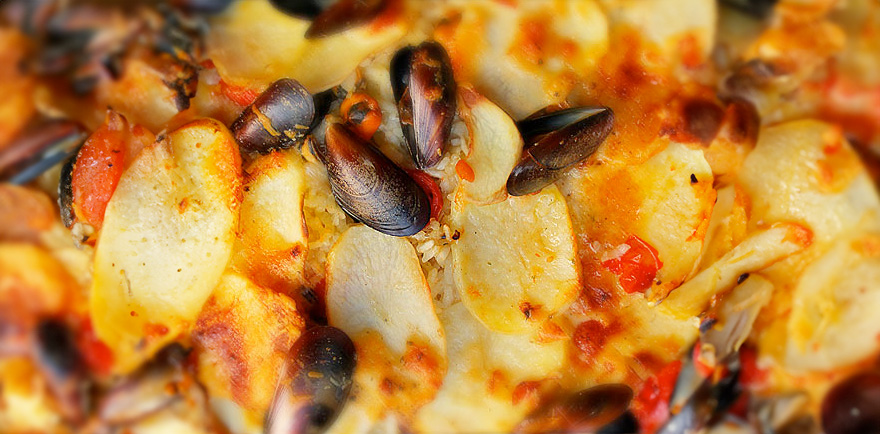 Drizzle over half the oil and season generously.
Repeat process and then scatter over the mussels in their shells and place remaining potato on top, allowing mussels to show.
Scatter over remaining parmesan and bake for 5 minutes.
Then add the mussel liquid and 750ml hot water (or enough to cover by 1cm).
Turn up your oven to 180C/Gas mark 4 and bake until the rice and potato are tender, all the liquid is absorbed and the dish has taken on a golden colour (45 minutes – 1 hour 15 minutes). Check towards the end of cooking.
Serve scattered with parsley.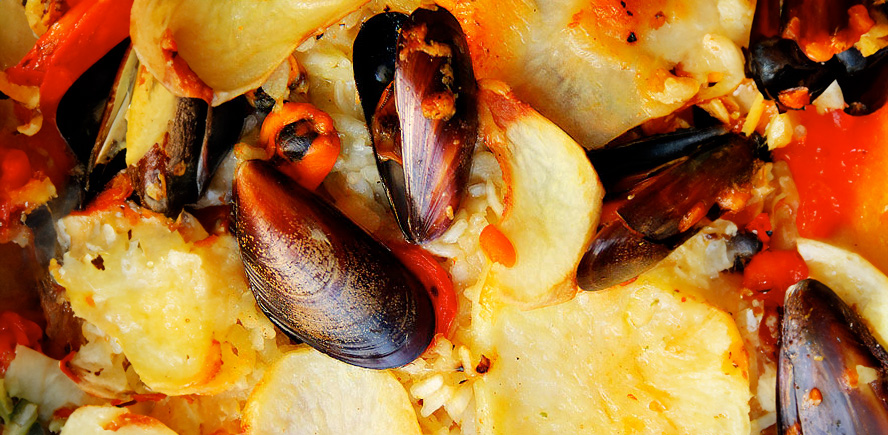 Verdict: An interesting, tasty and filling double carb hit of rice and potato.

Drink: A couple of sunny pints at The Lauriston, VPV before and a bottle of white during.

Entertainment: Listening to England going 2-0 down before and the final few episodes of 'Ideal' during.