The front page of Ken Livingstone's campaign website is frozen in pre-election time with the simple message 'Don't vote for a joke. Vote for London'. Shamefully, it seems Londoners (or at least the 45% who could be bothered to get off their arses to vote) fancied a bit of a laugh. Anyway, this depressing result left us in need of comfort food and what better than a lasagne?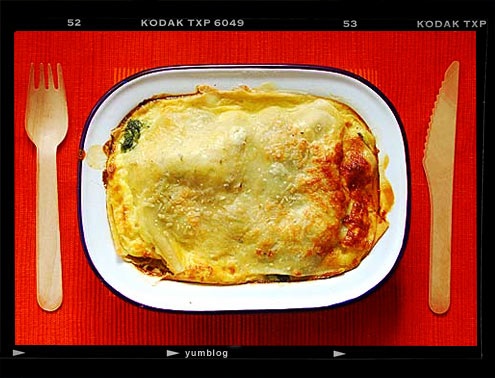 Preparation time: 10-15 minutes
Cooking time: 30 minutes
Skill level: Easy
Recipe Source: Waitrose Magazine
Ingredients
2 yellow peppers – quartered and roasted
a strong crumbly goats cheese – 200g
cr̬me frąche Р200g
milk – 100ml
2 eggs
spinach – 250g
parmesan – grated – 4tbsp
6 lasagne sheets
s & p
Start by quartering the peppers and roasting in olive oil for 20-30 minutes until soft.
Wash the spinach and put wet in a large pan (no need to add water), cover with a lid and cook/steam for a few minutes until limp. Drain and set aside to cool.
Place the lasagne sheets in a pan of boiling water and cook for about 5-10 minutes until softened.
Mix together the crème fraîche, milk, eggs and half the parmesan and season.
Find a suitable dish and pour in half the crème fraîche mixture. Layer half the peppers, spinach and lasagne. Crumble on all the goats cheese. Repeat with a second layer and top off with a sprinkling of the remaining parmesan.
Put in a pre-heated oven (190C/gas mark 5) and cook for 20 minutes.
Serve with a mighty green salad and a cold beer.
Dog in the Fog on the Balcony
Verdict: This is lighter than your average lasagna. The sweetness of the peppers contrasts perfectly with the sharpness of the goats cheese. So good we made two and ate them on successive nights. You can of course use red peppers.

Drink: Beer. Mainly from Ikea. However, there was one bottle of 'Dog in the Fog' which was bought on a day trip to the dreary Polish border town of S?ubice*.

Entertainment: Two films on DVD. Tony Scott's appalling and preposterous 'Deja Vu' and Fritz Lang's superb 'Metropolis'

*day trip taken from Berlin, not London, in case you questioned our sanity.