This is number one in an occasional series dedicated to using up half-opened and often forgotten packets of dry goods from the back of, for the sake of this blog, we'll grandly call the larder. First up the cheap, nutritious, humble, and ever dependable chickpea. The convenience and ready availability of the tinned variety has meant its shrivelled cousins have tended to be shunned and relegated to the dark backness of the kitchen cupboard. But not anymore – time to wake them up and beckon them forward, blinking into the bright lights of the kitchen (and an awaiting pot of boiling water).
Preparation time: 10 minutes if using tinned chickpeas *
Cooking time: 75 minutes
Skill level: Easy
Recipe: Ottolenghi
Serves: 3 to 4
Ingredients
chickpeas – 480g (2 tins, drained)
garlic – 11 cloves, peeled – 10 left whole and 1 crushed
fresh ginger – 30g – peeled and grated
cherry tomatoes – 400g
red chillies – about 3, mild or spicy depending on taste – a slit cut down their length
tomato paste – 1 tbsp
cumin seeds – 2 tsp – roughly crushed with a pestle and mortar
coriander seeds – 2 tsp – roughly crushed with a pestle and mortar
ground turmeric – ½ tsp
chilli flakes – ½ tsp
caster sugar – 1 tsp
olive oil – 200ml
Greek-style yoghurt – 180g
mint leaves – 15g – roughly chopped
coriander -30g – roughly chopped
2–3 limes – juiced to get 1 tbsp and the rest cut into wedges to serve
s & p
* If you are using dried chickpeas, you'll need to soak overnight and then boil for about 1 ½ hours.

Preheat the oven to 150°C fan
Put the chickpeas, 10 whole garlic cloves, ginger, tomatoes, chillies, tomato paste, spices, sugar, oil and 1 teaspoon of salt into a large sauté pan (with a lid) and mix everything together to combine. There is a lot of olive oil, but don't panic or skimp as this is where the unctuous deliciousness of this dish comes from.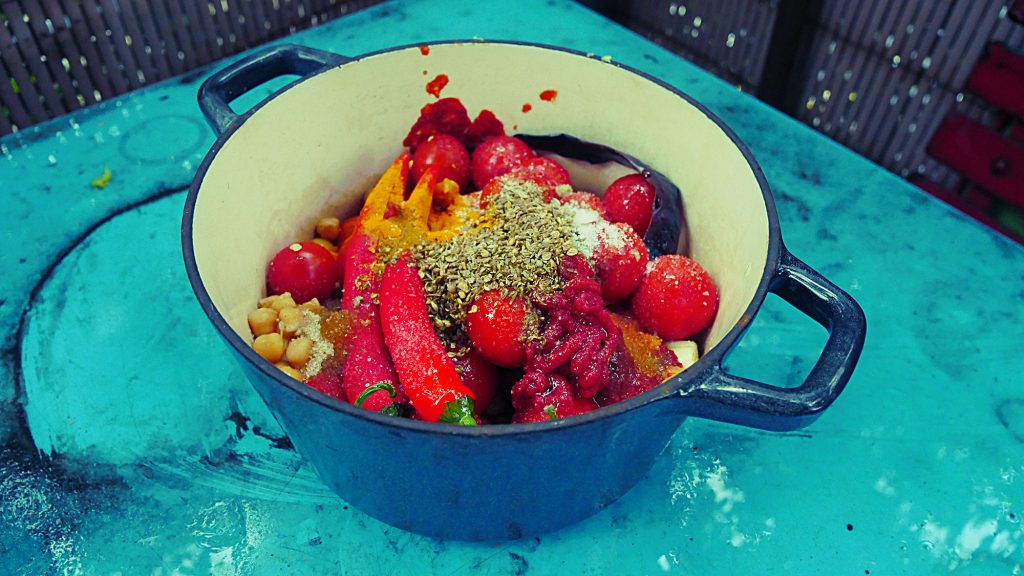 Cover with the lid, place in the oven and cook for 75 minutes, stirring a few times, until the tomatoes have nicely broken down.
Meanwhile, put the yoghurt, mint, coriander, lime juice, crushed garlic and 1?4 teaspoon of salt into a food processor and blitz until smooth.
Serve with the yoghurt dressing, a lime wedge or two, and a suitable bread to soak up the juices.
Verdict: An unctuous, spicy, flavoursome treat which requires very little preparation or effort. This is much enhanced by the herby, limey yoghurt dressing, so be sure make (unless vegan). Other interesting ways to chick a pea are this Chickpea & Aubergine Casserole with Preserved Lemons or this 'Falafel' Burger.

Drink: A bottle or two from the Christmas beer advent calendar.

Entertainment: Mopping up the last of the Christmas viewing.

The German/Belgium beer advent 2022